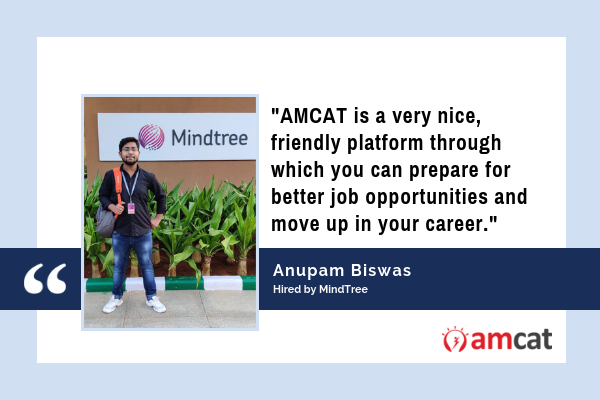 The AMCAT exam, with its smart AI formula and the ability to adapt itself according to your answers, is currently one of the most reliable job search platforms. It is the perfect bridge between job seekers and recruiters, and so Anupam found out when he first opted for it.
Let's see what Anupam has to say about his journey with AMCAT.
Why did you opt for the AMCAT exam?
"AMCAT is a very nice, friendly platform through which you can prepare for better job opportunities and move up in your career."
"I got my first job offer within 15 days of taking the AMCAT test. In fact, many of the top MNCs with attractive packages hire through AMCAT."
"Also, the AMCAT mock test, PrepAMCAT along with Mock-AI and Resume Builder really help in cracking the job interview."
The AMCAT test pattern is also followed by most of the top MNCs. So, I would recommend every engineer to take the AMCAT exam at least once.
"The AMCAT exam is also very helpful for freshers as well as those looking for a job change. You can just take the AMCAT exam and relax because you will definitely receive one or three interview invites every week."
While looking for a job, did you face any difficulties?
"No, I did not encounter any difficulties while looking for a job as the quality of your job search depends completely on your willingness to achieve that job."
Tell us about the job you got through the AMCAT exam
"I got job offers through AMCAT from Tata Motors and MindTree. I am currently working as a Junior Engineer with MindTree."
I am very thankful to AMCAT because it provided me with a job in my dream company within 15 days.
Was the AMCAT feedback report of any help?
"The AMCAT feedback report uses AI to give a comprehensive report. It knows you better than you know yourself."
"It also suggests ways in which you can improve your performance and tells you about the kind of jobs you will be fit for in the corporate world. It also helps you dream big."
Would you recommend the AMCAT exam to others? Why? 
"I would refer AMCAT to everyone because as I told earlier, it can help you find your worth in the corporate world. It will help you figure out the position in which you are most suitable."
"AMCAT can also help you get placed in one of your dream companies and help you get attractive salary packages. Also, the AMCAT fee isn't much and is thus suitable for students. So, take the AMCAT exam and relax as you will definitely get your dream job."
Anupam showed a lot of faith in the AMCAT exam and got multiple job offers. Today, he is a happy AMCAT customer, enjoying his way through a job in MindTree.
If you too want to write your success story, then schedule your AMCAT right away and enter a world of opportunities.