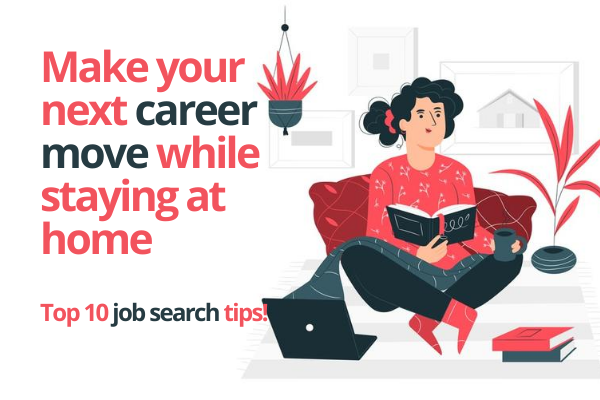 Are you confused and worried about how to search for jobs during the coronavirus pandemic? If your answer is yes, then you are in the correct place. It is normal to feel jittery before starting your job search, especially when staying at home. However, with hard work, perseverance and positivity, you can start your career in your dream company.
So, if you want to make your road towards your ideal job easier and more successfully, then here are the top 10 job search tips on how to get your dream job without stepping out from home.
Start looking for job listings
The first step in how to search for jobs is by checking out the best sites to find relevant openings. One of the fastest ways to find tailor-made and exclusive job opportunities is by opting for the AMCAT exam.
With your AMCAT score, you can apply to exclusive job openings on the AMCAT job portal. In fact, in the last few months, more than 100 AMCAT candidates were successfully placed with 5LPA salary packages.
Keep your job search focused
Don't spread yourself thin by applying to all the job openings on the portal. Shortlist the job profiles that match your interests and the location where you want to work.
In addition to that, due to the coronavirus pandemic, you should find remote job openings. Use advanced search options and keywords to find out opportunities relevant to your qualification and area of interest.
Work on your interpersonal skills
While staying at home, you should work on your soft skills like Communication, Creativity, Leadership and Time management. Companies are looking for candidates with transferable skills, so you should start building up these skills during the lockdown.
Moreover, these skills will also help you perform well in your first job and create a positive image in front of the recruiter and the manager.
Complete certification courses 
Other than soft skills, you also need to focus on your technical skillset. And, one of the best ways to validate your skills is by completing online certification courses.
Many highly accredited certification courses are available for free. For instance, you will get access to one of the AMCAT certifications of your choice, if you book the AMCAT exam. So, continue your learning without stepping out from the safe confinements of your home.
Build a professional image
Recruiters are using social media platforms like LinkedIn to source the right candidate. That is why regularly updating your LinkedIn profile, being comprehensive about current skills and highlighting your recent experience can make your job search much easier.
In fact, features like Endorsements and testimonials will give your skills authenticity and makes it easier for the recruiter to find you.
Go through the job description
In order to customise your job search, make sure you go through the job description carefully. Underline the keywords and skills mentioned and incorporate them into your job resume, cover letter and job interview answers.
This will make your job hunt more targeted with a higher success rate. Moreover, this will show the recruiter that you are serious about your career and did your homework related to the job profile.
Target your job resume
Use the job description as a starting point to create a job targeted resume. Sending a generic job resume to different job profiles will reduce your chances of getting an interview call.
Use keywords, highlight your skills, mention relevant certifications and make no mistakes when drafting your job resume. Moreover, make sure your resume is skimmable because the recruiter won't spend more than 6 seconds on your resume. So, your resume should not be anything less than perfect.
if you want to easily create an impeccable job resume, then you can use professional tools like Resume Buddy. Housing more than 25 resume formats to help you make the right resume in a few minutes.
Attach a cover letter
Attaching a personalised cover letter to your resume can highlight your job application in front of the recruiter. Give examples, put emphasis on skills and mention work experience/internship in your cover letter.
However, make sure your cover letter is not more than 3 paragraphs long, addressed to the right person and follows a formal tone.
Gear up for your virtual job interview
The best way to prepare for the virtual job interview is by giving mock interviews while staying at home. To get an in-depth analysis of your interviewing skills, you should opt for Mock-AI. You will get a detailed feedback report to help you identify the areas where you lack.
Moreover, you can also take help from your family to conduct mock interviews at home. Build up your confidence, improve fluency and be mindful of your body language. 
Follow-up with the recruiter
Once you get done with the job interview, you should send a thank-you/ follow-up email to the hiring managers and the interviewer. This is one of the best ways to highlight your candidates and mention details that you forgot during the interview.
Furthermore, it provides you with a chance to reiterate why you are the perfect candidate for the job. and that you are looking forward to hearing from you.
With these are top tips to help you, start working towards your dream job. These steps are not ironclad lists of strategies, you can incorporate them in your job search steps and take it to another letter.
Staying at home can be mentally tiring but try to stay motivated and continue working hard for your career. Don't be afraid to make mistakes, in fact, use them as a stepping stone to success. 
So, have confidence in yourself and your job search strategies, and continue learning how to search for jobs.
All the best!