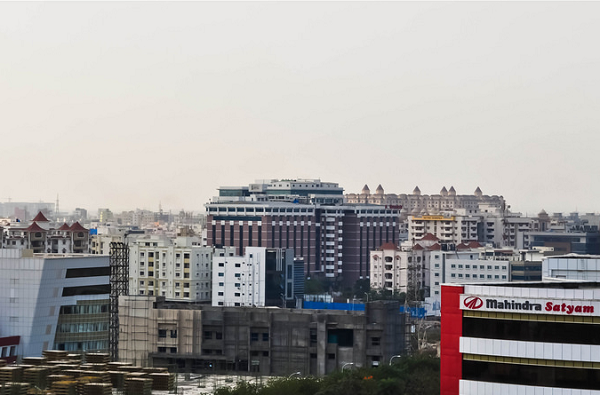 Hyderabad, the city of pearls, is now a perfect metaphor for fresher job aspirants as well. The corporate hub is one of the places in India where you can finally get your dream job! But to settle and work in a new city, can be quite intimidating given the little knowledge you have about the lifestyle there. So, what do you do?
This blog (part of our series on metropolitan cities like New Delhi and Bangalore) will fill you with sufficient information to start with fresher jobs in Hyderabad! Let's begin then.
Places to Stay in Hyderabad
The first thing that one needs to think about before moving on your prospective jobs in Hyderabad, would be a place to stay. In terms of affordability and environment, here are some of the living spaces which are closest to the IT work hubs here.
1. Madhapur:
If you are an IT professional and working in Hyderabad, it is most probable that you have landed up in the HiTech city. The place to stay is then Madhapur. It's in proximity to your workplace, a little crowded but a decent place.
Shopping malls and markets are nearby so you can make a quick trip during weekends or evenings. The rent of a 2BHK apartment ranges from 15-20K which is quite affordable if shared by 2/4 occupants.
2. Gachibowli:
It's not as crowded as Madhapur but a bit far from the work hub (HiTech city). It's one of the most favourable locations for candidates looking for Fresher jobs in Hyderabad as you can get a two bedroom property under 10-15k which is reasonable if rented on sharing basis.
3. Indranagar:
Not everyone shifting for jobs can cook and manage stuff on their own. If you are one of them, you can settle for one of the PGs in Indranagar. They also have women's hostels to ensure the safety of women new to the city and even provide rooms for your parents for 1-2 days if they visit you sometime. Some of the PGs also have transport facilities within their vicinity.
4. Lingampally:
For non-IT professionals, it's one of the most affordable places and closest to all locations for non-IT jobs. You can get regular buses and shared autos decreasing your expenses. Along with, places of recreation are in close proximity.
5. Kukatpally:
If you are moving with your family, it's best to select one of the residential areas. We recommend Kukatpally which is near to work and is suitable for families.
Other places which can be reached within 20 minutes from major work hubs of the city include Darga, Dhaba, and Puppalaguda, etc. If you spend some time on the search, you can get a 2BHK flat for as less as 10K per month.
Places to Work in Hyderabad
1. HiTech City:
The Hyderabad Information Technology and Engineering Consultancy City is Hyderabad's own 'Gurgaon', with a plethora of options in IT jobs, Engineering jobs, Bioinformatics, etc. Due to its relevance to technology and the cyber world, it's also known as Cyberabad.
The place is easily accessible from nearby areas such as Madhapur, Gachibowli, Kondapur, Manikonda, Jubilee Hills, Nanagramguda etc. HiTech city offers the largest number of fresher jobs in Hyderabad and is the best for starting your career in Hyderabad. The offices here include big names like Facebook, Microsoft, Tech Mahindra, TCS, etc. This is the newer part of the city which has developed in the last 8-10 years.
2. Secunderabad:
You will get all types of fresher jobs in Secunderabad ranging from a customer care executive to engineers and more. You can also look up for part time jobs here if you are in Hyderabad for your studies or want to add to your income by doing so.
3. Begumpet:
Begumpet/Old Begumpet is one of the oldest parts of the city and is one of the major commercial spots of the city. You can find fresher jobs with different designations here.
4. Kukatpally:
Even though it's not one of the large job hubs, Kukatpally is home to quite a few start-ups doing really well. They don't have extensive job openings but you can find one if you are on the lookout.
Startups often offer good designations in your fresher years which is good for your career further.
Travel mode for jobs in Hyderabad
After you get a good job and settle up in a humble abode, the next thing you need to figure out is how to commute within the city. Apart from arranging a to and fro mode of transportation to the office, you need to be aware of other modes which can help you move around the city.
1. Buses:
Best for fresher jobs, Buses have a really good connectivity in the city. It gives you a comfortable ride across the city while keeping it light on your pocket. You also have special buses for airport and railway stations to save all those extra bucks. The bus service is managed by TSRTC and is dependable in terms of punctuality.
2. Auto-Rickshaws:
You can easily get auto-rickshaws to roam around the city. Moreover, for a number of popular routes, you can even get shared autos cutting your travelling costs tremendously without compromising a lot with the comfort.
3. Cab Services:
Other than local taxis, you can get popular cab services like Uber, Ola, etc. Since the Other than local taxis, you can get popular cab services like Uber, Ola, etc. Since the companies frequently offer coupons and discounts, you can use them to your benefit to roam around the city when comfort is required or when you are running short of time to wait for a bus/auto.
Other than these, the Hyderabad metro rail construction is also at its full swing. The first metro train service is expected to start by January, 2018. Once commenced, it will make moving through the city really comfortable.
Trending job opportunities in the city
The current job opportunities trending in the city, according to the developing companies and organisations include jobs for:
 IT professionals – With the increase in IT companies in India including huge MNCs the requirement for the workforce is at its all time rise.
 Mechanical Engineers – There are a lot of motor and machinery companies opening and expanding within the vicinity of the city creating a lot of job opportunity for engineering jobs in the particular field.
 Data Analysts – Data Analysts forms a crucial part of every company looking out to expand and progress, so there's a constant demand here.
 Software Engineers – IT companies with no software engineers? Not possible. Though the openings overlap with IT professionals, it's actually not the same.
 Graphic Designers – There's a bright future of Graphic Designers in Hyderabad.
 Managerial Posts– With the increase in the number of company offices in Hyderabad, there are too many managerial positions to be filled in.
Apart from these, all other posts which are mandatory for the day to day operations of an organisation can be found by doing a little bit of research on the internet and by sending CVs to the companies.
Common Problems Freshers face in Hyderabad
It's always difficult to move to a new city and when it's for a job it becomes difficult as you have to look into everything on your own. It's more difficult for freshers as it's for the first time they are exposed to the corporate world. Here are a few problems which freshers might face while looking up for their jobs in Hyderabad:
1. Water Problems:
There are a few localities in Hyderabad where the water problem is painfully severe. It's really a problem when you get up in the morning and don't have water to wash up and get ready for your office. In fact, some places entirely depend on tankers for their water needs. That's the least you want after already compromising so many things to move to a new place.
Solution: Before you pay your security and rent to move, make sure the society or the place you are moving to have regular supply of water. Don't believe the landlord; try getting in touch with fellow tenants instead.
2. All work no play:
That's not actually a problem with the city, but your workspace. Since the culture is totally corporate, your company might take out more work from you than expected. In fresher jobs, this can be really exhausting at the very start of your career.
Solution: Don't depress yourself. Make a friend circle with your same age colleagues or neighbours and spend weekends with them. Go for movies or plan short trips during long weekends.
They city isn't all about work as the thought might scare you enough to resist a good job opportunity.
Apart from working and shaping your career, you can spend your leisure time exploring the city. It has a lot to offer. From heritage monuments like Golkonda and Charminar to exploring history in museums, it has a lot to offer. If you take interest in art and culture, you can get registered in relevant societies and spend your weekends with like-minded people.
What else? Well, yes. You might get bored visiting the heritage building after a couple of times, but the food of Hyderabad will never disappoint you. The best thing is that you can never run out of options when it comes to food. Known for the famous Hyderabadi Biryani, there's lot more in the city to satiate your taste buds. You just need that exploring streak.
While places in the extreme south get a little difficult for north-Indians to manage in terms of language and climate, Hyderabad doesn't bother you with that. All in all, it's one of the best places in India to move for work!
If you liked reading this summary, you might also like our summaries on other cities: