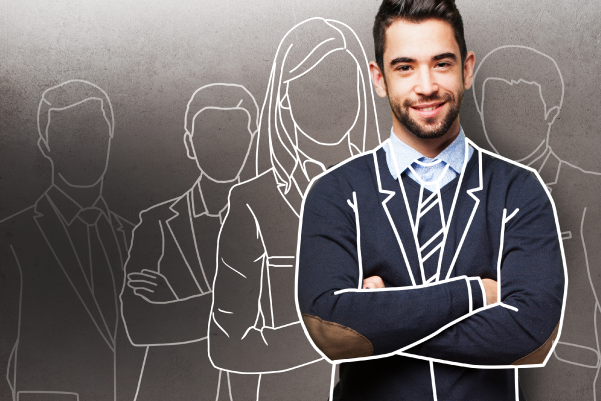 'Fish Market', that's the word students often used to describe group discussion in most colleges. It is so because group discussions end up becoming chaotic screaming matches, in order to grab the attention of the recruiters and get more points in the GD stage of campus placements.
This stage is often one of the most unpredictable during the placement process. You can prepare and plan well for aptitude tests and personal interviews, but with GD your chances can go for a toss thanks to your competition!
Most people have varied views of GDs, some say you have to be aggressive while others say you have to be sophisticated since it's a professional requirement. Whatever it is, it's not necessary that your classmates have read the same articles as you have and may end up behaving in the exact opposite manner.
Sometimes, classmates also have a pact with each other before going into a GD that they will all behave well, everyone knows how that ends up! Here are some tips that can help you prepare for GDs and ace them –
1. Understanding Group Discussions
2. Preparing for Group Discussion content
3. Practicing speaking skills for Group Discussion
4. Tips for actual Group Discussion
1. Understanding Group Discussion
Group Discussions have been an integral part of the recruitment process in Indian colleges. It is a useful round of elimination because recruiters can identify qualities of students which may not get highlighted in other processes.
A. Communication Skills –
Many students can have proper one-on-one discussions but do not have the confidence or ability to address larger gatherings. Depending on the role requirement recruiters may choose specific type of students – a Business Analyst role may require good communication skills because they may give presentations versus a coder who might not have client facing roles.
B. Team Work –
Group Discussions put together at least 5-8 or more students together for the discussion. This requires students to acknowledge the team, the inputs they are bringing in and ability to listen to other members. This is important to recruiters as in the future these students will need to work in project teams, and they cannot have employees who are inept at it!
C. Comprehension and analytical skills –
Young graduates often have the tendency to shoot off their mouths about topics they might not know anything about. The group discussions will assess how candidates react to unknown topics or known topics and their handling of the same. This is important because recruiters want employees who are patient, can gather their thoughts and then speak with some knowledge and conviction.
2. Preparing for Group Discussion Content:
Groups Discussions can have two types of topics – abstract and specific. You can find out with your seniors or faculty about how certain companies tend to announce topics and be prepared. But there is no stating how a company might choose to go with the discussion; it all depends on the recruiters who come on campus.
A. Abstract Topics –
GD topics may be like – 'Sky is Blue', 'Pizza is round but box is square' or anything as weird as that! The idea behind these topics is not confuse you or expect you to say something technical or logical about it but to test your communication and on the feet thinking.
You can't exactly prepare for it but you can follow a system where you first speak about the topic, try to draw a parallel comparison or relate another concept to it.
B. Specific Topics –
Specific topics can again be generally of two types – General Knowledge and Technical. For GK topics you need to prepare from now! You need to be aware of the basic political, economic and cultural trends that are taking place across the world. This is not something you can brush up in the last few days, so keep scrolling through headlines everyday.
Technical topics rarely come up during GD but if they do you should only speak when you are confident of the answers. It's better for the recruiter to believe you are shy than think you don't know the topic!
You will anyway prepare for you aptitude tests and technical interviews, so there is no need for special preparation for this.
3. Practicing Speaking Skills for Group Discussion
Group Discussions test your communication skills and you should put your best foot forward. Conduct some mock GDs with your friends, practice in front of the mirror and if possible join a public speaking club. You can get more tips here and here on improving your spoken English skills.
4. Tips for Day of Group Discussion
A. Carry a pen and notepad –
You will be given a few minutes time to gather your thoughts before starting the GD. Make sure you make notes about the topics, this is because in the flow of the discussion you may forget some brilliant points you might have had at the start of the GD.
B. Take a seat where you can see everyone and vice versa –
If it's a circle then it doesn't matter but in a semi-circle or any other formation pick a seat where you can make eye-contact with all the other members and the moderator as well. It's important that you look at the other speaking member and ensure you speak to the entire crowd instead of just one person you are comfortable with!
C. Entering the Group Discussion –
Of course, you make an impression if you start the discussion but maybe someone is quicker than you or you don't know the topic. Don't worry; just enter the GD as soon as you can with great points that grab the attention of the team and moderator.
D. Assertiveness versus aggression –
There is a thin line between the both, assertiveness is putting your point across confidently without shouting or anger. You need to keep a calm attitude and ensure you get your point across. If the room is aggressive and people are only able to shout and talk, then you should call for peace and urge the other members to talk sensibly. They will not ignore it because no one wants negative points for keeping a ruckus continuing! At no point should you get frustrated and start shouting, the one who starts the ruckus never gets anywhere.
E. Nothing to contribute –
It may happen that you don't know absolutely anything in the group discussion and are clueless. Let a few people talk ahead of you and then summarise or agree with what someone else says acknowledging them. This way you can speak in the GD and at least showcase your communication skills.
F. Listen and respect –
You need to be open-minded, listen to others viewpoints and then present your own views. It will not help you if you are stubborn and do not listen to someone else views. It's alright if your viewpoint is losing, you can stick to it and provide counter arguments or you can accept that yes, there may be an alternative view and you will reconsider your choice. This will not reflect on your decisiveness. Don't stop others from speaking and be respectful above all.
G. Referring to other team members –
It is great if you can create chances for those you feel are not speaking at all. This will highlight your leadership skills. Always use names in addressing other team members. If you don't know them then point and speak respectfully but don't say 'Girl in white shirt' or 'Tall guy' etc.
H. Moderate the group –
If you informally take up the role of the moderator then nothing like it! Make sure the group is sticking to the point, involve all members of the group and ensure everyone gets a fair chance. These things will highlight your attitude and confidence.
I. Closing and ending the GD –
It is great if you also get to summarise the GD and close the
argument, it has as much an impact as the one who opens a group discussion. This is where your listening skills will be highlighted.
Most of all, never exit a group without speaking! There is no worse way to tank a placement process than keeping quiet in a GD no matter what!
If you have any further questions about Group Discussions or any specific problems, do comment below so we can address it for you. For more placement tips, follow our blog here.
If you liked this story, you can also read the following:
Campus Placements: How to get the dream job your entire class wants?
Step-by-Step Guide to Preparing For Campus Placements
Package vs profile: Choosing a fresher job in your campus placements