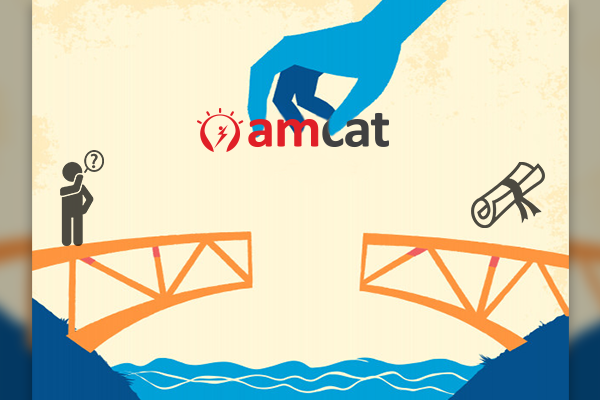 Who doesn't want a great job – a job that don't just offer a handsome salary but also which you will enjoy waking to every morning.
However, getting that perfect job is no easy task.
Especially when you don't have the guidance of the AMCAT exam to keep you on the track to success. But what exactly is the use of writing and clearing the AMCAT exam?
We will answer such questions and talk about the companies that hire through the AMCAT in this article.
What is the AMCAT exam all about?
The AMCAT exam needs no introduction; however, for our newer users, we would delve into what it is all about.
AMCAT is that broad umbrella that brings both recruiters and job seekers under its vast expanse. It bridges the gap between the two and gives them a common platform to interact and find each other. With AMCAT, your skill-set is given precedence.
What is the use of writing and clearing the AMCAT exam?
There are lots and lots of colleges in India, some better than the other. However, only a few colleges acquire the status of being tier-1 colleges. These colleges enjoy unlimited access to great job opportunities and bigger brand names.
But what about colleges that don't belong to these categories? What about their students?
It is primarily for these students that the AMCAT exam is super beneficial. A good AMCAT score and percentile can draw the right recruiters who would be looking to value your skills above all else. It can also give the students an opportunity to apply for top companies available on the AMCAT jobs portal.
And, not just that, you can add your AMCAT score and certificates to your LinkedIn profile and even your job resume to make your candidature stronger. All in all, your AMCAT score is a perfect way for you to rise above your college name and how much you scored during your semester exams and achieve all your dreams nevertheless.
Even for students who do belong to tier-1 colleges, the AMCAT certification can be a wonderful addition. With a testimony of how proficient you are in all fields, it will only add to your profile and give you an edge over other candidates with similar experiences and educational background.
Companies that hire through the AMCAT
Of course, the main thing is the jobs that you can get after giving the AMCAT exam and the companies that hire through the AMCAT.
There are numerous big companies, start-ups and medium level companies that hire through AMCAT. Of these, some of the names that have popped time and again are MindTree, Reliance Jio, Aricent, Accenture, BYJU's, UBER, Advantage Club, Quikr, and Magicpin. Of these companies that hire through AMCAT, some of them offer exceptional package and great work environment.
The list of the companies that hire through AMCAT is not restricted to this list as there are numerous more companies hiring through AMCAT on a near-daily basis.
Also Read: Qualities That Will Get You Hired During Campus Placements
What to do when your subscription is at an end
All these benefits are great but you must know by now that the AMCAT subscription lasts for 12 months from the day you give the test. So, does that mean you will have to say goodbye to all the job opportunities that keep popping up on the AMCAT's jobs portal? Or would you have to stop using the AMCAT score and certificate in your resumes and LinkedIn profile?
Well, not necessarily. A good way to enjoy the benefits of AMCAT would be to renew your AMCAT subscription. Of course, if you feel you did not score really well the first time around, then giving the test again will be the best idea. But if you did score well and have been receiving interview calls and job offers, then you should definitely renew your AMCAT subscription.
In fact, renewing your AMCAT subscription has a lot more benefits than the first time you gave the test. How?
Remember the first time you gave the AMCAT exam? You might have been in college at that time and with little or no experience to back you up. But now, you are more learned in the ways of how the industry works, you have spent a year observing what are the demands and the requirements of the industry, and you have had ample opportunities to rework, reframe and upgrade your skills.
As such, renewing your AMCAT subscription would mean that you stand a higher chance of bagging those jobs you really wanted and keep up with whatever is going on in the jobs market.
So, renew your AMCAT subscription or sit for the exam again or schedule the AMCAT exam to enter the world of jobs and career. Whatever you do, enjoy the best of the AMCAT and say hello to new and better job opportunities.