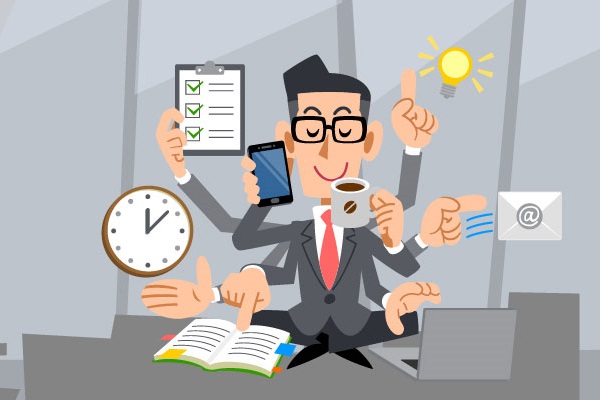 Most of us sit and plan and then waste away the day thinking we will start tomorrow. In the words of Scarlett O'Hara (Gone with the wind), "tomorrow is another day", but that does not mean you should put everything off for that day. So, here are some success tips to help you be more productive.
Stop, breathe, relax
Most of the time we don't achieve anything because we are too busy worrying about it. Worrying about things never helps. Instead, take a deep breath and try to relax.
Write a "Keep Calm" message to yourself and stick to it. Do yoga, meditation, listen to some music and go to your happy place.
Think back, look forward
Are you stuck on some particular task that is hampering your productivity? Think back on the task and the steps you took to come to the position you are in now. Can you do something different to make it better? Yes? Then do it. If no, then leave it and look at the bigger picture.
You can come back to it again after a few days with a clearer mindspace. Till then give yourself a breather and do something else instead of worrying about things.
Ask yourself why
Why do you need a job? What do you need to do for it? Look through jobs portals or search for fresher jobs or IT jobs? Why do you need to complete a project? Ask yourself such simple questions and find the answers to find motivation.
Ask yourself such simple questions. Reflect on the whys and the whats. Why you need to do this, where will it take you in the future. Why is the task at hand important to you and what will be its rewards and consequences? When you reflect on these questions, you will find the motivation you need to go on.
Give yourself some 'me-time'
If you feel uninspired, tired, unproductive then start by emptying your mind and pampering yourself. Spend some time with yourself. Do things that make you feel better and happy. Give some time to your hobbies. If you are still lost then you can take up some physical activity, play a sport or go swimming. And if you really feel like it, then go for a hot oil massage or revamp your look.
Define a deadline and stick to it
No one and no should define your deadlines for you. Know when and how you can complete a given task, give yourself a deadline and work hard to stick to it. Use your spare time productively and keep a check on how much time you spend on lunch breaks or the like.
Find a hobby and work on it to refresh yourself and then get back to the task at hand. Slumping in front of the T.V is not going to provide you with much of a relief and you might end up feeling guilty for having spent the time idle.
So, make use of this simple but helpful success tips to find your mojo and get back to work with a bang.