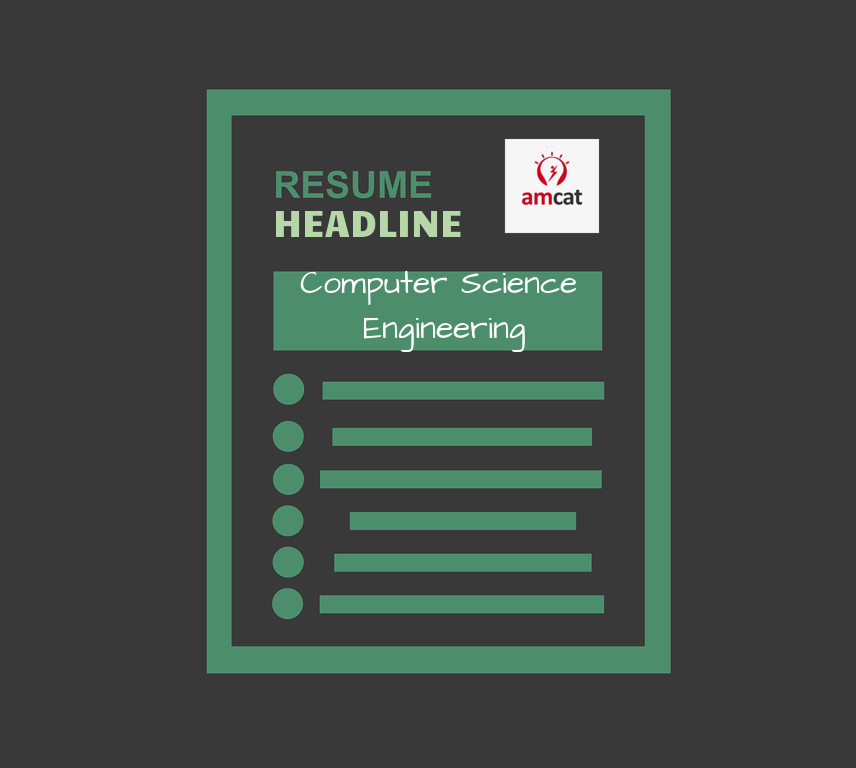 The fate of your resume is decided in 6 seconds of time. Yes, between coffee breaks, con-calls, team meetings, and client discussions – there is a very small time window for your resume to make an impact.
The resume is what will clear the way for your job interview, or else it will find its way in the trash box. And, in all that, the first element that catches the employer's eyes is the resume headline.
If you didn't already know, resume headlines are the catchy brief phrases that describe who you are and what you're aspiring for, without having for you to speak.
Resume headlines find their place right at the top of the resume, making it ultra obvious for the reader to see. They should be compelling enough to make the reader indulge further in your resume.
Special Offer: Get AMCAT at just Rs.949/-. Use Code BLOG2019 at payment page. Hurry! code valid till 31st March 2019 only. Register Now.
If you look at job resume templates available online, you'd know what we're talking about. This article will further elaborate on what kind of resume headlines should be written in a resume for CSE students.
Resume Headlines: What is it and how to get it right
Resume headlines are also known as resume titles. A resume headline is placed at the top of the page right below your name and contact details. This part of the resume briefly describes why you're the best fit for the job in question at the beginning itself.
It should also bring to light what makes you special than hundred other resumes sitting on their desk for a while. So, this statement/phrase must be very well articulated to intrigue the employer in reading further.
Compiling resume headlines isn't a big deal if you know what you have to offer and how is that relevant to the employer. It is basically your value proposition and a ticket to sell yourselves to the employer.
However debated, most job resume templates include resume headlines at the top. Some people do not prefer having one as it sort of cages their abilities in that one statement.
Contrastingly, it adds definition and structure to your candidature. The elements in resume headlines usually include:
– Topic of your expertise

– Years of experience

– Work experience
But if you're a fresher, it's advised to showcase your passion for the field in your resume headlines. The idea is to give out all the necessary details without giving away too much too soon. It should be relevant and up-to-date.
The resume headlines must use simple keywords that are related to the job posting and summarizes the skills that make you an ideal candidate. This part of the resume should be a concise phrase, not a complete sentence. It should highlight your key attributes and skill set that makes you different than any other potential candidate.
Use of personal characteristics is best. You can use words like 'dependable', 'well-organized', 'innovative', 'trustworthy' and 'proficient'.
Best resume headlines examples for CSE freshers
The resume for computer science engineering students is slightly different from an experienced computer science engineer. Since it's a fresher resume, it should ooze with enthusiasm, zeal and curiousness to attract the employer. Let us look at some examples of resume headlines:
Goal oriented, focused computer science graduate with an eye for detail. Complete knowledge of programming languages like C++ and Java.
Self-motivated computer science engineer with keen interest in coding.
Inquisitive, energetic computer science specialist skilled in leadership, with a strong foundation in math, logic, and cross-platform coding. 
You can use similar titles to highlight your best behavior.
If you aren't sure how to get going then you should try to ResumeBuddy. It's a MyAMCAT tool that helps create skills-based, professional looking resume in minutes by providing 25+ job resume templates, word recommendations and suggestions.
This tool is the best fit for those looking to build a clean and crisp resume with professional help. It is easy to use making it the best resume builder available online.
Special Offer: Get AMCAT at just Rs.949/-. Use Code BLOG2019 at payment page. Hurry! code valid till 31st March 2019 only. Register Now.