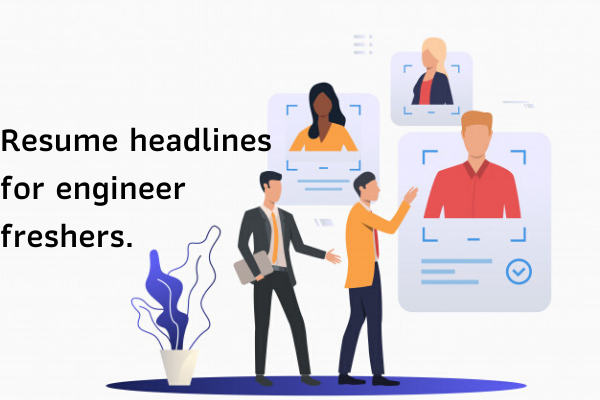 Resume headline is also known as a resume title which is a summary of your career. It should not be more than 2-lines long. Moreover, the purpose of a resume headline is to highlight your strengths and why you are the ideal candidate for the job. You should also mention any internships or project that you are a part of. A fitting resume headline should be concise and full of action words. A catchy resume headline can make your resume stand out from the rest. Hence, your resume title should be relevant to the job. In addition to that, it should be personalized.
Moreover, on average, your resume only gets a 30 seconds window. Therefore, a compelling resume headline will compel the recruiter into reading your resume then and there.
However, to help you start your resume writing, here are ten resume headlines for different engineering job profiles.
Testing Engineer
In-depth knowledge of automated testing tools, QTP, Selenium, OOPS concepts and Java Script. Has the ability to document and troubleshoot errors.
Networking Engineer
Strong communication and interpersonal skills. Profound knowledge of automation framework and scripting in Python and skilful in MPLS and VPN technologies.
Java Developer
Excellent communication and technical ability. High proficiency in technologies such as Hibernate, JavaScript and MySQL.
Machine Learning Engineer
Hard-working and confident with sound quantitative analysis and statistical modelling skills.
Frontend Developer
Hardworking and Persistent. Skilled in CSS3, HTML5 and Bootstrap. Also, know AMP, JavaScript and Angular JS.
Solution Architect
6 months of Internship experience in Design and development. Knows Functional design specification and cloud computing.
UI Designer
Seeking the role of UI designer to make use of my expert knowledge in Adobe XD, Photoshop, and Illustrator. Also, have internship experience in process flows and site maps.
Electrical Engineer
B.Tech Electrical from XYZ College, high-level proficiency in prototyping and interface implementation. Also, goal-oriented and excellent communication skills.
Chemical Engineer
Have a knack of discovering new things and strong analytical skills. Can easily apply understanding of complex chemistry into research.
Telecommunication Engineer
Friendly and professional; can maintain and design telecommunication systems for broadband, cable and cellular transmission.
So, these are the resume headlines of some of the popular engineering fresher job profile. Also, you can take help from these and personalize them as per your requirement. If you think you might need extra help, then you can take assistance from Resume Buddy, which has a variety of resume template for you to choose from and customize them as per the job requirement.