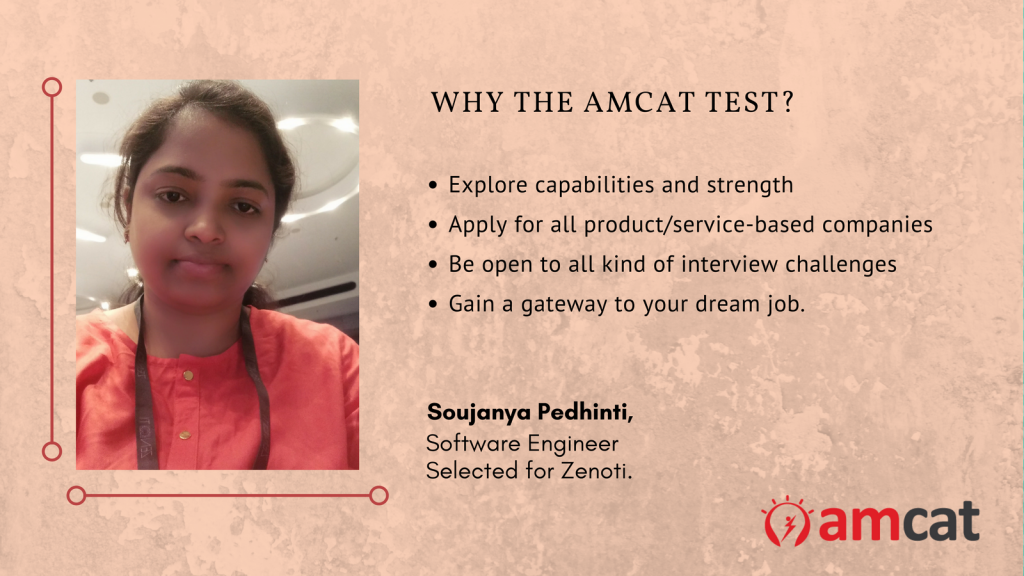 Often, we are asked how good are someone's chances of gaining an IT job or specifically, a software engineer job, after giving the AMCAT test. Our AMCAT review in this piece serves as a substantial reply for this.
This is the story of Soujanya Pedhinti, a B.Tech in CSE from Netaji Subhash Engineering College, Kolkata. A 2016 graduate who took the AMCAT now, her story also underlines how the assessment works for recent graduates or those who have a gap year after their graduation, on their job search.
"I had graduated in 2016 with a campus placement with TCS."
Unfortunately for Soujanya, things did not go as she had planned. The Telugu girl from West Bengal had to let go of the opportunity, owing to health issues. Once better, she decided to go for the AMCAT for good opportunities.
How was the AMCAT test experience?
"After deciding to take AMCAT, I had started preparing for AMCAT the online (Indiabix, All India Govt Jobs, M4Maths etc) exam."
"As I was confident enough I have booked a slot and took the exam in Kolkata on September 23, 2017."
Getting Interview Calls:
Approximately a month after she gave the AMCAT, Soujanya received the first interview call. This was one for a Java Developer position with Remaxys in Noida. After that, she counted 10-12 interview calls for a large number of profiles.
"I got the interview call for Zenoti in the same flow."
We asked her to talk about the interview process in the company.
"I got shortlisted and received an admit card to attend the job interview. After that, I put some efforts to know about the company interview process."
Looking back, she counts the Zenoti job interview as difficult. "I went through 4 technical interview calls and one MR round. I had prepared for it by going through all the CSE basics and coding to my best abilities."
We also asked her if she would recommend the AMCAT to others?
"Obviously yes. It's because one will get to explore his/her capabilities and strengths in the process of attending various kinds of companies (Product-based, service-based etc.). It will help one become open to any kind of interview challenging situations which is the gateway to their dream job."
Tips to AMCAT takers and other job-seekers
"Practice for both AMCAT and Interviews simultaneously. Practice for AMCAT by your basics strong which will suffice to score well. Be confident for interviews and you are half way through to your dream job. The rest lies in the performance and your skills."
Congratulations, Soujanya for getting the software engineer job you were looking for. We hope your story serves as an example to others, seeking to give the AMCAT Test. And if that's you, consider scheduling an AMCAT Test.