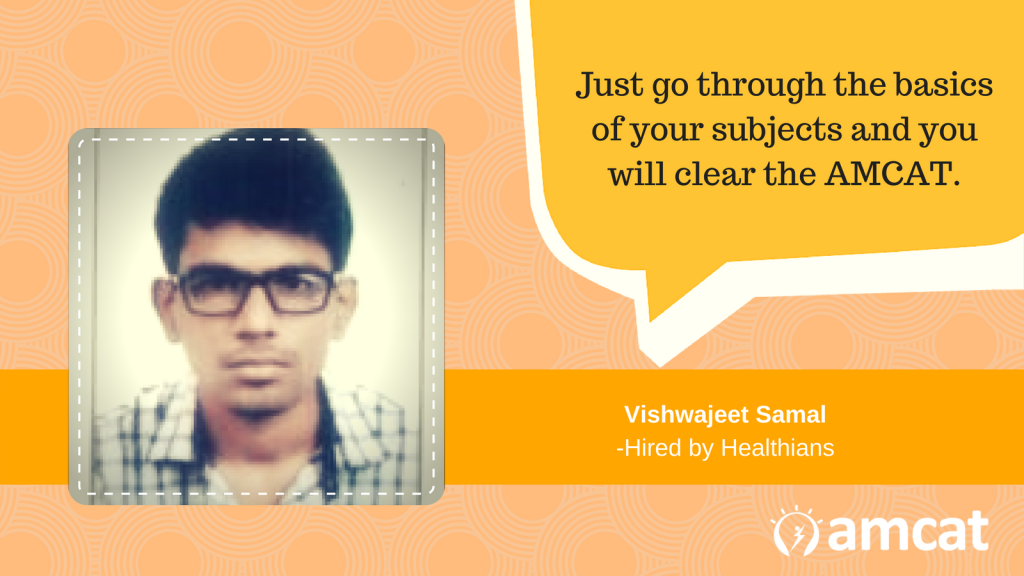 With the rise of digital marketing, online stores and customer-centred operations, more and more students are finding fresher jobs in E-Commerce and ITES domains. These, in startups to established MNCs add another layer to IT jobs available for freshers today. And this is one where you find a month-on-month, year-on-year growth in jobs these days. It's also the zone where Vishwajeet Samal found his fresher job, a job in Healthians.
Our AMCAT testimonial for the day is the story of Samal and how he cleared his aspirations for a well-paying job in this segment. A job in Healthians – a medical test-at-home service which coordinates with its customers directly, trying to arrange these services as per their exact needs. And this is how he went on his way in securing it.
The AMCAT Test Experience:
Varanasi-based Vishwajeet Samal is a 2016 Engineering graduate from Raj Kumar Goel Institute of Technology had just begun his job search when he considered the aptitude test. The simple cricket-obsessed lad said, "No, I didn't face any kind of difficulty (in my job search). I had taken the AMCAT at the right time and AMCAT shortlisted me for all the good companies."
Did he prepare a lot for it? Not really – he was ready, with a good grasp on the papers and his core subject. "I did not have to prepare so hard for the AMCAT. The test only includes questions from logical reasoning, quantitative and core subjects."
His first interview call came soon after.
The job in Healthians
Diagnostics brand Healthians was looking for 2014-2016 graduate who could join them in a CRM role in Gurgaon, handling cold calls and generating leads. For this, they looked into the database of candidates who had already taken up the AMCAT test and sent out interview calls accordingly.
Vishwajeet received a call for the non-tech role as well. "It was a normal interview as it is a non-tech profile. So, I did not need any kind of specific preparation for that either."
And he aced it, receiving an offer shortly thereafter this year.
A Testimonial to the AMCAT test
We asked him, whether, in light of his experience, he would recommend the skill assessment test to others? He agreed, citing the scope of opportunities he had received through it.
"Just go through the basics of your subjects and you will get through the AMCAT test."
And that's a wrap. If you have any thoughts around Vishwajeet's AMCAT experience, share it in our comments section below. You could also leave queries in the same place and consider giving the AMCAT test to gain a similar career swing.