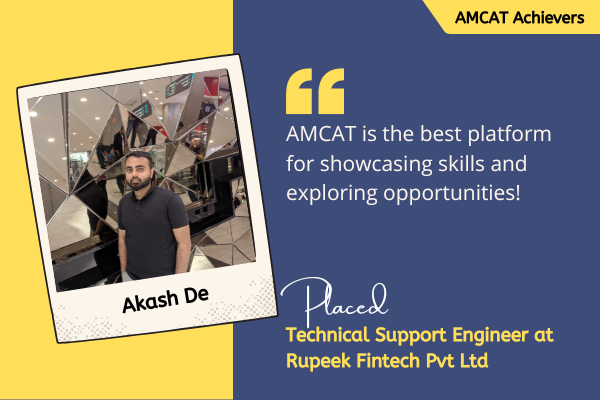 One of my best career decisions, especially in terms of my professional career, was taking the AMCAT exam. I was able to get a great job to start my career as a fresher since the entire procedure was so smooth and successful.
What pulled you to AMCAT above other possible options?
Akash explained that he chose AMCAT because of the big brands, higher salaries, suitable job profiles, and convenient job locations.
Register for AMCAT | India's Leading Fresher's Assessment And Job Site (myamcat.com)
Tell us about your job role and the company where you got placed?
"I got placed as Technical Support Engineer at Rupeek Fintech Pvt Ltd as Technical Support Engineer, told Akash."
What role did AMCAT feedback report play in your job search?
After going through AMCAT the feedback report I started giving more importance to coding.
What challenges did you face while searching for a job? Please provide more information.
Akash listed down points for us regarding challenges which he faced at the time of searching for a job.
Firstly, since I scored low grades in class 12, I was unable to sit for the interviews for big companies.
Secondly, even after clearing HR and technical round, I was still getting rejected without any proper communication.
Thirdly, a German company named Axicorp gmph scammed me for 20k INR in the name of Tableau training. After, successful completion of exam the HR was not reachable and then I found that the company scams students in same way.
Lastly, there was a lack of response on submitted job applications."
In what ways did the AMCAT feedback report assist you in evaluating your performance?
After going through the AMCAT feedback report, I gave more importance to coding.
Will you tell others about AMCAT?
"Yes, I'll definitely recommend AMCAT to everyone, especially to all the freshers," said Akash.
 Why do you think AMCAT is an ideal choice?
"Akash concluded, by telling us that why he opted for AMCAT by giving the following reasons
It helped me in getting quick response from employer.
It gave some assurance that companies listed will not do any scam.
It helped me in understanding in which exam module I need to improve.
It offers good options for off-campus placement."