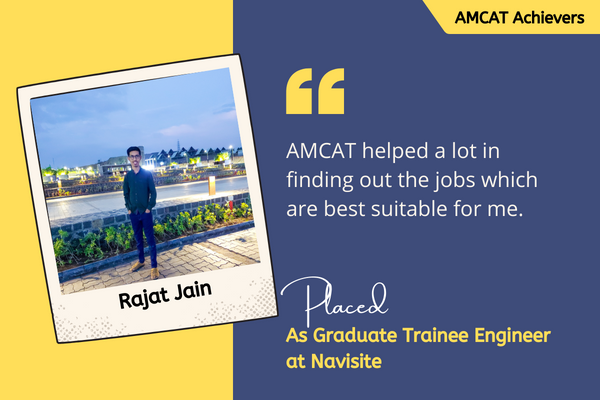 The AMCAT exam is a one-stop solution for all of your professional problems, according to Rajat, a candidate we recently spoke with. He took us along on his journey of discovering diverse job opportunities with the assessment.
Why did you opt for the AMCAT exam for your first job?
Rajat told us that he opted for AMCAT because of Bigger Brands, Better salaries, Relevant job profiles
Tell us about your job role and the company where you got placed?
"I got placed in Navisite as a Graduate Trainee Engineer, with the help of AMCAT, said Rajat."
Has AMCAT helped you in achieving the above-mentioned points?
Yes, AMCAT has been extremely helpful in achieving my first job.
Register for AMCAT | India's Leading Fresher's Assessment And Job Site (myamcat.com)
How did AMCAT help you in getting a job?
"Through AMCAT I got direct interview calls from the company, told Rajat."
How did the AMCAT feedback report help you assess your performance?
Through AMCAT feedback report I improved on those areas in which I scored less marks.
Would you recommend AMCAT to others? Also, can you mention 3 main points that you liked about AMCAT?
"Yes, I'll definitely recommend AMCAT to others. The things which I liked about AMCAT are:
It's a good platform
Top companies are associated with AMCAT
The exam pattern is good & user friendly, concluded Rajat."
We Wish Nothing But The Best For You!