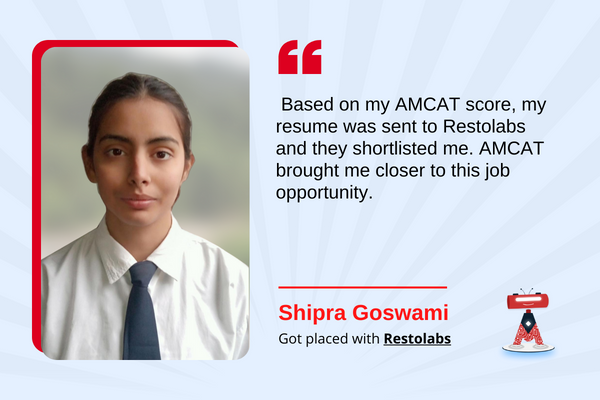 Based on my AMCAT score, my resume was sent to Restolabs and they shortlisted me. AMCAT brought me closer to this job opportunity.
One of my best career moves, especially in terms of my professional career, was signing up for AMCAT. Because everything went so smoothly, I was able to start my career as a fresher with an excellent job opportunity with Restolabs.
Tell us about your job role and the company where you got placed?
I am responsible for writing server-side web application logic, usually developing back-end components, connecting the application with the other web services, and supporting the front-end developers by integrating their work with the application.
"Restolabs is an online food ordering platform designed to help restaurant owners streamline operations related to deliveries, menus, orders, and more, explained Shipra."
What were your focus points when you started your job search?
Shipra told us that her main focus points were to find relevant job profile and job location.
How did AMCAT help you in getting a job?
Based on my AMCAT score, my resume was sent to the company, and they shortlisted me. AMCAT brought me closer to relevant job opportunity.
While looking for a job, what all difficulties did you face? Please elaborate.
"I faced certain challenges and difficulties such as, I didn't get the preferred location and job roles. My skills weren't relevant to the industry to which I was applying. It is challenging to get the attention of hiring managers with so many other applicants, told Shipra."
How did the AMCAT feedback report help you assess your performance?
Shipra said the action plan mentioned in the report helped me to find out the subject areas where I rank high on employability so that I can focus accordingly on the interview preparation.
Would you recommend AMCAT to others? Also, can you mention 3 main points that you liked about AMCAT?
"Yes, I'll definitely recommend AMCAT to others. The things which I liked about AMCAT are:
It helped me to identify my strength and weaknesses.
It helped me to explore companies that are not recruiting from their campus.
AMCAT feedback report helped me a lot to assess myself, concluded Shipra."
We Wish Nothing But The Best For You!