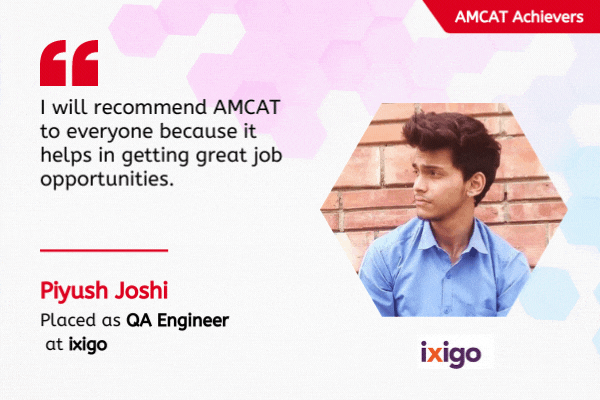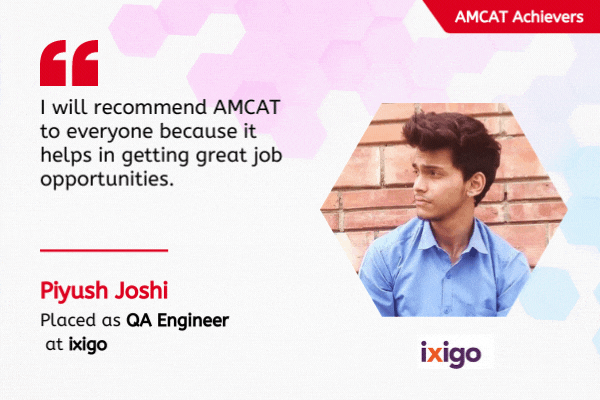 Taking AMCAT has been one of the best career decisions for me, especially when it comes to my professional career. The entire journey has been extremely smooth and successful, it helped me in getting a great job to start my career being a fresher.
Piyush was clear about his career choices, and he trusted AMCAT without a doubt. Do you want to know more about his journey? Then you can read more about it below.
Piyush, why did you opt for AMCAT?
Piyush told us that he opted for AMCAT, for various job opportunities.
While looking for a job, did you face any difficulties? Please elaborate.
"Yes, I did face one difficulty in some jobs where I applied, I didn't get a response, they should at least confirm whether you are shortlisted or not."
Tell us about the job you got through AMCAT?
"I've got an offer from ixigo, apart from that I also got multiple interview calls through AMCAT." Claimed, Piyush.
What role did the AMCAT feedback report play in the process?
"The feedback report helped in identifying some areas where I should work on," told Piyush
Would you recommend AMCAT to others?
"Yes, I'll for sure recommend to others."
If you have any queries, feel free to get in touch with us.
We Wish You All The Best!