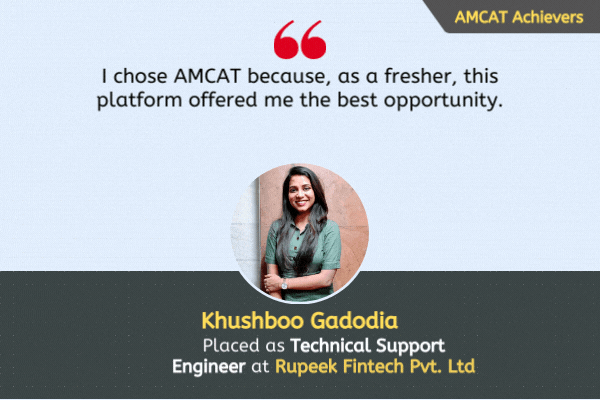 Khushboo told us about her first job search, which she accomplished through AMCAT. She explained how the exam assisted her in finding an appropriate job. In the article, we've included the entire interview with Khushboo, in which she explained her struggles and the help she got from AMCAT.
What pulled you to AMCAT above other possible options?
Khushboo explained, that she chose AMCAT because of the big brands, higher salaries, suitable job profiles, and convenient job locations.
Tell us about your job role and the company where you got placed?
"I got placed as Technical Support Engineer at Rupeek Fintech Pvt Ltd, told Khushboo."
What role did AMCAT play in your job search?
"AMCAT provided me a great learning platform and the assessment helped me in getting my new job."
Register for AMCAT | India's Leading Fresher's Assessment And Job Site (myamcat.com)
What challenges did you face while searching for a job? Please provide more information.
"When I was looking for a job, the biggest difficulty I faced was time. I realized that time has and will always play the most important role in anything and everything. Managing time is the hardest thing, one must do. The second, thing is the concentration that you require while studying and achieving something big. I know everywhere and every time, people always say that one needs to focus, but I figured that focusing on just one thing is not that easy. Your mind always jumps from one thing to another. But, as days went by, I made myself consistent towards my studies, and believe it or not, consistency is the key to concentration."
In what ways did the AMCAT feedback report assist you in evaluating your performance?
"The AMCAT feedback report helped me in making my performance better, said Khushboo."
Will you tell others about AMCAT?
"Yes, I'll definitely recommend AMCAT to everyone, especially to all the freshers."
Why do you think AMCAT is an ideal choice?
"Khushboo concluded, by telling us why she opted for AMCAT by giving the following reasons
AMCAT is easy to access
2. It provides a detailed feedback report
3. This platform offers a great variety of jobs for everyone"
If you have any queries, feel free to get in touch with us.
We Wish You All The Best!