We all know that pandemic has hit hard every job seeker, especially freshers. But do not worry, AMCAT helps in finding suitable job based on your assessment scores.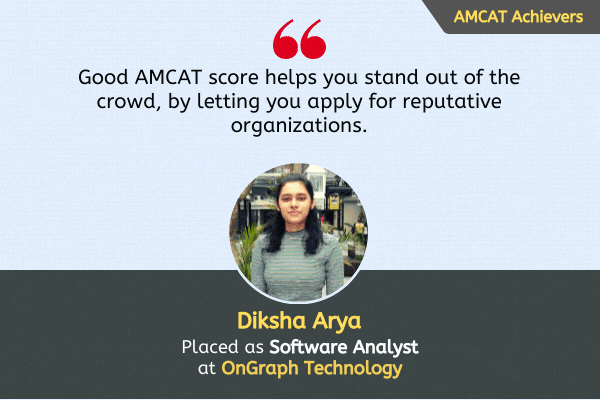 One of our candidates -Diksha Arya, shared her journey of discovering her first job through AMCAT. She told us how the assessment changed everything for her and helped her in getting a suitable job. Below is the conversation with Diksha herself, where she told us about her AMCAT journey, be it the company she got placed with, challenges faced, reason for opting for AMCAT.
So Diksha, why did you opt for AMCAT?
I opted for the AMCAT exam since applying for jobs became difficult during COVID-19. She explained, "In these pandemic times, AMCAT has helped me in the fluent placement process by connecting me with the companies.
Applying to the companies has become a lot easier because of AMCAT and I personally got many job invitations and job interview invitations based on my AMCAT score within 2 to 3 months."
Tell us about the job you got through AMCAT.
"I got placed with On-Graph Technologies Pvt. Ltd. as a Software Analyst.
My process with the company was smooth and transparent.
Once I accepted the job invitation of On-Graph Technologies based on my AMCAT score, I started getting an invitation for attempting for initial rounds.
After that company directly approached me for the final selection round."
How did the AMCAT feedback report help you?
"AMCAT feedback report is the best way to know your strengths and weaknesses in each section of the test.
Getting percentile in each section helps you to know where you stand amongst others.
It also talks about your personality and where you need to work more.
It is an excellent tool to assess your AMCAT performance."
Would you recommend AMCAT to others? If yes,
why?
"Yes, there is no reason to not recommend AMCAT further, specially to freshers as it brings good opportunities to apply in various companies. A good AMCAT score helps you stand out from the crowd."
If you have any queries, feel free to get in touch with us.
All The Best