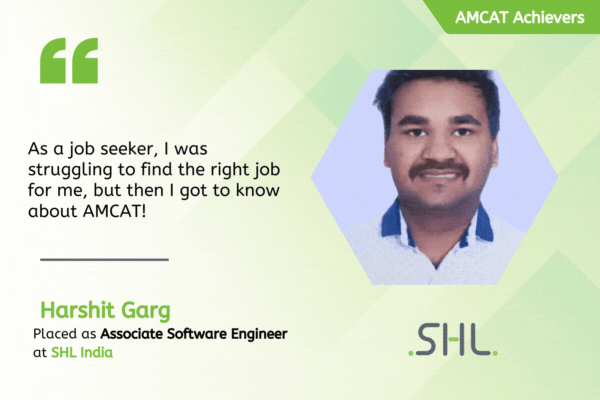 Finding a job can be a daunting task, especially for recent graduates who are just starting their career. It's a competitive market out there, and it can be hard to know where to start. That's where AMCAT comes in. As a job seeker, I was struggling to find the right job for me, but then I discovered AMCAT. Thanks to AMCAT's assessment and job matching system, I was able to find my dream job in no time. In this blog, I want to share my experience of using AMCAT and how it helped me land my first job. If you're a job seeker looking for guidance, keep reading to learn more about my journey.
Tell us in which organization you got placed?
"I got placed in SHL as an Associate Software Engineer, with the help of AMCAT, said Harshit."
Why did you opt for the AMCAT exam for your first job?
Harshit told us that his main focus points were to find a relevant job profile, a bigger brand, and a better salary.
How did AMCAT help you in getting a job?
"I took the AMCAT exam, and based on my interest and AMCAT scores, I started getting job recommendations, which helped me in getting a job, told Harshit."
While looking for a job, what all difficulties did you face? Please elaborate.
"It was quite difficult to get a response from companies as they do not know the candidate, but AMCAT helped me showcase my strengths and skills to the company and I started getting replies from companies with a clear selection road map, explained Harshit."
How did the AMCAT feedback report help you assess your performance?
Harshit said it helped me in understanding my strengths and areas for improvement.
Would you recommend AMCAT to others? Also, can you mention 3 main points that you liked about AMCAT?
"Yes, I'll for sure recommend AMCAT to others. The things which I liked about AMCAT are:
An elaborated report after assessment, which can help understand your area of strangeness and weaknesses.
2. A daily company recommendation with complete details.
3. A clear and structured assessment that can showcase your talent, concluded Harshit."
We Wish Nothing But The Best For You!