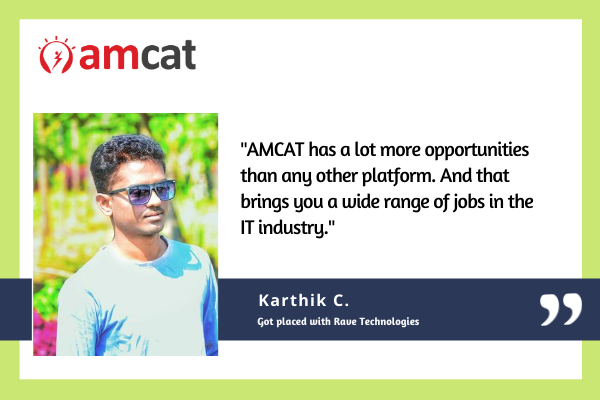 Sometimes off-campus placements bring you a lot more opportunities than campus placements ever manage, as Karthik realised very early on. He was seeking his first job in 2020 when he turned towards the AMCAT exam to see his job search through and he wasn't disappointed.
How Karthik managed to overcome all odds and find his dream job is an inspiring story. Let's have a look –
Why did you opt for the AMCAT exam?
"AMCAT has a lot more opportunities than any other platform. And that brings you a wide range of jobs in the IT industry."
"Actually, I faced a lot of difficulties while searching for a job. My college did not have an adequate campus placement system and I had to search for jobs through off-campus placements. However, I rarely got information about off-campus placements events or opportunities. That is when I learnt about the AMCAT exam."
"One of my seniors in college told me that AMCAT provides a wide range of opportunities and assured interview calls from companies that can help me get a job in the IT industry. That's why I opted for it."
What about the job you got through AMCAT?
"I got very frequent interview calls after giving the AMCAT exam. I got a call from Rave Technologies too and took part in the off-campus placements drive. After I cleared the rounds, I was offered a good profile and a good and competitive package."
"The AMCAT report also showed me the exact points in which I was weak so I could improve myself further in that particular area and achieve my goals."
Karthik also points out that this package was better than what he had been being offered at other websites and he really glad that he listened to his seniors and opted for AMCAT instead of waiting for things to turn around during campus placements.
Would you recommend the AMCAT exam to others?
"Of course, I will. The main reason to recommend AMCAT is that it ensures at least one or two interview offers in a month. Most of the top MNCs and corporates use the AMCAT exam for placements."
Karthik C. made the most of the AMCAT exam, ensured that his off-campus placements venture was a success and landed the job of his dream. And, much like him, you too can court success and give your career a winning start, just trust AMCAT.
All the best!
For more inspiring success stories on people who made it big even during the COVID-19 crisis, go through our testimonials section.