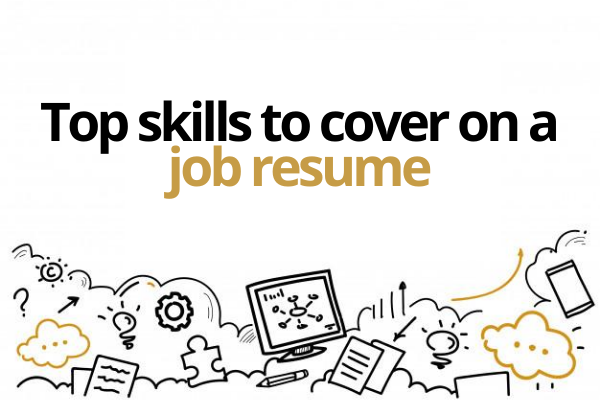 In a job resume, the skill section shows the recruiter that you have the abilities to succeed in this job role. In fact, the recruiter pays special attention to this section to determine whether your job application should move on to the next step of the hiring process or not.
So, to help you make the right first impression, we have curated a list of top 6 job skills for resume.
1. Communication Skills
The basic requirement of any job profile is for you to have excellent verbal and written skills. In your job resume, you should mention skills like Public speaking, Active Listening and Verbal/nonverbal communication.
Having strong communication skills is important in every industry and at every career level. So, make sure you highlight this top job skills for resume.
2. Computer Skills
To successfully crack this level of hiring round, you should mention your hardware skills. Computer skills involve the ability to learn and operate various technologies to effectively complete day-to-day tasks.
Mentioning computer skills like coding languages, spreadsheets, MS Office, Photoshop and more will boost your chances of bagging the job of your dreams. However, some software skills are considered as prerequisites to employment. So, don't forget to highlight them on your resume.
3. Leadership Skills
Whether you are in a management position, leading a project or part of a team, leadership skills require you to motivate yourself and others to efficiently complete tasks as per the schedule.
So, in your resume summary or cover letter, you should mention keywords like flexibility, team building, adaptability and motivation to show the recruiter that you have leader-like qualities.
4. Problem-Solving Skills
Throughout your professional journey, you will have to overcome many problems to get success. Having problem-solving skills will help you determine the source of a problem and will enable you to find effective solutions.
Problem-solving is one of the highly valued skills in any role for every industry. So, when writing the content of your job resume, make sure you mention words like Patience, Research and Eye to detail.
5. Time management skills
In the corporate world, time is money and if you want to succeed then you need to make time your best friend. That is why Time Management is a highly valued skill. 
In fact, time management skill not only allows you to complete tasks and projects but also helps you maintain a work-life balance. Keywords like goal-oriented, organised and focus can make your job resume more professional.
6. Transferable skills
Thanks to the coronavirus pandemic, the hiring managers are looking for candidates with transferable skills. So, when drafting your job resume, position your past experiences to the present role, even if it is in a different industry.
So, make sure you highlight skills like Ambition, Creativity, Empathy and Teamwork if you want to start your career with a bang.
The best skills for resume depends on the job type and career level. So, before applying for any job opening, take your time to review the skills that the recruiter is looking for. Don't send the same job resume to different job resumes.
Create your resume as per the job requirement to advance to the next level. You can also take the help of Resume Buddy to create a targeted and tailor-made job resume within minutes. 
So, pay attention to the type of candidate the recruiter is looking for and connect them with your strengths to stand out from the crowd.