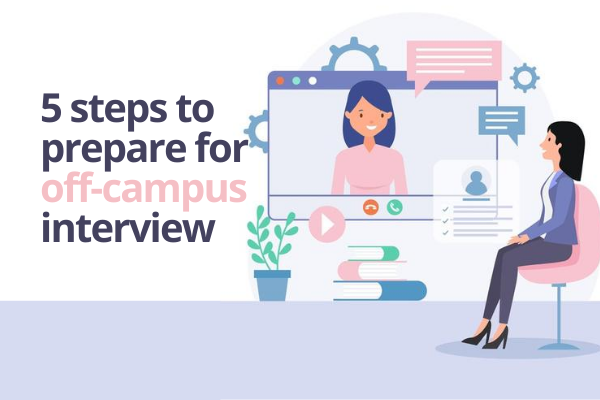 Congratulations your hard work finally paid off. Now it's time to pull up your socks and start gearing up for the upcoming job interview. Here are the top 5 off-campus interview tips that will help you crack your interview round and closer to your dream job.
Step 1: Prepare examples of your achievements 
Read the job description word-by-word to find out the skills that the recruiter. The responsibilities mentioned in the job description will help you focus on your strengths.
Just saying that you are skilled at something is not as effective as sharing accomplishments that show how polished your skills are. Best way to showcase your achievements is by mentioning situations/incidents or sharing examples where you successfully applied your skills to solve work like issues.
Step 2: Do your homework
Before you set your foot out to go for the off-campus interview, you should go through the company's home page. Read the "About Us" and "Contact Us" sections to find out about the company's ideologies and work culture.
You can search the company on LinkedIn to find out more about the people who work there, work ethics and products. You should "follow" the company to keep yourself updated with the company.
Go through the social media accounts of the company and try to learn as much as you can about company's policies and work ethics. This will help you create better answers to common interview questions.
Step 3: Prepare common off-campus interview questions
During an off-campus interview, the recruiter is going to ask you some common interview questions and based on your answers to these questions, you will be selected for the next round.
So, if you want to get closer to the job offer, you need to prepare answers to common interview questions. This will help you gain confidence and improve your fluency.
Step 4: Dress to impress
Your dressing sense tells a lot about you and your personality, so make sure you dress well for the off-campus placement interview. So, make sure when going for the interview, you are dressed up smartly and professionally.
Your clothing will give you a boost of confidence and will create a positive impression on the recruiter. Irrespective of your gender, you should dress up in formal, subtle and comfortable clothes with polished shoes.
Step 5: Make the right first impression
During the interview, be mindful of eye movements, postures and gestures. You should always be careful about the message your body is conveying.
For instance, through a firm handshake, you can show the recruiter how confident you are, even if you are nervous from the inside. Your body language should convey confidence, respect and politeness to create a positive impression on the recruiter.
These are some valuable off-campus placement tips that you need to follow if you want to have a successful campus placement interview. Try to incorporate these tips in your interview preparation and give as many mock exams at home.
Giving mocks will help you sharpen your interviewing skills and improve your chances of getting your dream job. You can take the help of Mock-AI and use the feedback report to identify the areas where you need to improve.
So, work hard and start your career with a bang.