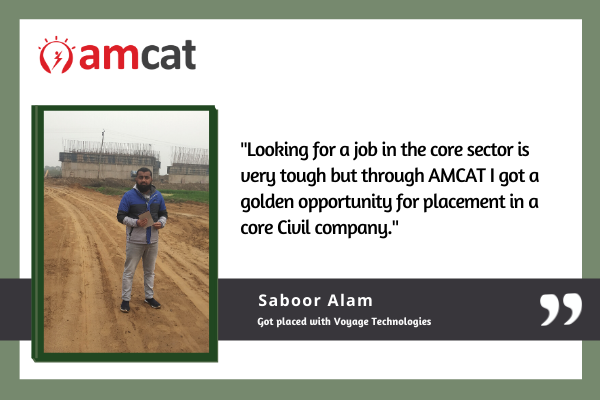 Getting a job, especially during the COVID-19 times is becoming increasingly tough. But what if we told you that you can find your dream job from the comfort of your home and have the choicest opportunities to apply to? With the AMCAT exam, every expectation you might have held with your ideal job can come true. Don't believe us? Check out the success story of Suboor Alam.
Why did you opt for the AMCAT exam?
Suboor, a 2020 batch candidate recalls that he did not even know anything about the AMCAT test until a few months back.
"One day I attended a seminar at my college and that is how I came to know about the AMCAT exam. At first, I did not believe that any platform could do as much as they claimed but I soon my mindset was completely changed."
For Suboor, AMCAT did everything it claimed and much more. It introduced him to an opportunity he loved and ensured that he wasn't lacking for anything in his job search.
"Looking for a job in the core sector is very tough but through AMCAT I got a golden opportunity for placement in a core Civil company."
We are proud of you, Suboor!
Will you recommend the AMCAT exam to others?
"Yes, AMCAT has helped me a lot."
"I have got 4-5 interview calls through AMCAT and I have already got a job in a civil core company named Voyage Technologies. AMCAT is a good platform for final year students and I think everyone should at least try it."
Thank you Suboor.
Suboor, like a lot of other AMCATeers, made his mark in the industry with a job in his core company. And from hereon, it is only success and more success for him. If you too want to write your success story, then just book your AMCAT and start on a journey full of opportunities.