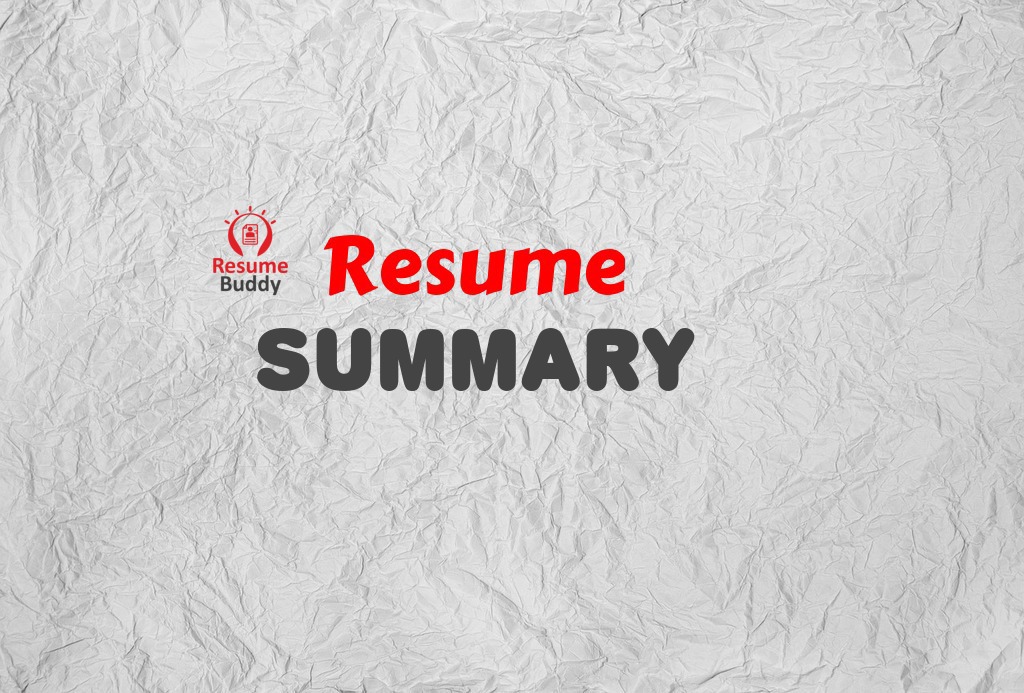 Think about the last time you purchased an online product or checked out information about a movie on IMDB or a book on Amazon? What did you do? You read the summary of the product!
A summary is a great way to give concise information about anything. It saves you the time to get into the details and gives you enough info to decide whether or not you should invest your time or money in it.
A resume summary does the same for your job resume.
It is a short paragraph or a few sentences about your profile that helps the recruiter decide if they should invest more time in reading through your resume.
Recruiters, usually, spend sifting through tens of resumes in a day and spend about 6 seconds in deciding whether or not to look further deep into your resume. A resume summary, therefore, is an advantage you will have over other candidates.
What is a Resume Summary?
A resume summary includes information about your past work experience, qualifications, and achievements. It is like a bridge that connects the recruiter to your prior work experience and helps them decide if you are suitable for a job in the company.
A resume summary can be known by different names in resume samples or resume templates as – professional summary, qualifications summary or resume statement.
How is a Resume Summary different from a Resume Headline?
A resume headline is a one (or two) line statement about your profile, the kind of job profile you want and, what you are good at. It usually highlights the skills, job roles, and a few keywords. It is a concise statement and is suitable for both freshers and experienced candidates.
A resume summary is longer, it can include four-five line paragraphs or can be divided into four-five points, each of which has less than ten words. The summary highlights the work experience, skills, and achievements and is essentially the best of your resume.
It is ideally suited for work experience candidates with a long work history or candidates who wish to change their career paths.
How to write a Resume Summary?
Write it in the end – Just because a resume summary is the first thing that appears on your resume doesn't mean you write it first. Finish the entire resume and pick the best 3-4 features of your resume and list them in summary.
Mention your professional titles – Throughout your work experience, you would have accumulated multiple professional titles, mention all of them in the resume summary. This is important for the recruiter to understand how you have grown in your career.
Don't write long sentences & use keywords – You need to pick one – either a paragraph or points – for writing your resume summary. Either way, don't stretch it too long. You can use keywords and join them together with your achievements to make sense.
Quantify your achievements – This is one of the most useful resume building tips you can implement easily. You should use numbers and percentages to list down your achievements or work done. This will instantly grab the attention of the recruiter.
Mention work history – List down the details of what kind of places you worked in – large company or start-up, the size of the teams you worked in, or the size of the teams you managed; Or the revenues you gained. This will help the recruiter understand if you will fit into the company you are applying for.
Highlight skills – Whether you are a fresher or an experienced candidate, skills are always going to be important! A resume summary should include both your hard skills and soft skills, as you grow up the ladder your soft skills will start becoming more important.
Here is a resume summary example –
5 years of social media management experience with a start-up in Bangalore, dealing with FMCG, F&B and Entertainment accounts.

– Handled 20 accounts with collective annual revenue of 50+ lakhs

– Increased social engagement of an average of 50% on all accounts with the highest of 800%

– Own and maintain social media marketing blog – www.socialguru.com
If this all seems too much, then the best way to get your resume summary right is to use a resume builder tool like Resume Buddy. The tool will help you create an attractive and impressive resume within minutes. Do you have any more queries about a resume summary? Write to us in the comments below.