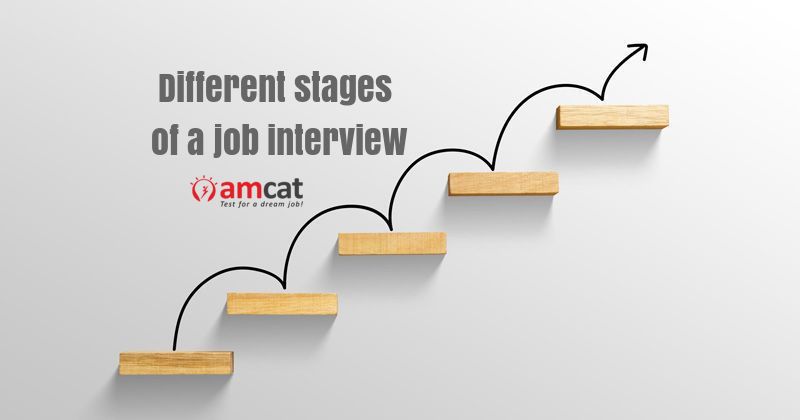 College placements include just one job interview conducted on campus, and this leads to many fresher graduates to assume that most jobs have only one interview. Once you step outside the campus and choose off-campus placements, you will realize that a job interview has multiple stages. Each stage of the job interview process requires different preparation.
We have created this short guide with interview preparation tips for each stage of the job interview process so that you can achieve interview success and end up with a job offer in hand –
Special Offer: Get AMCAT at just Rs.949/-. Use Code BLOG2019 at payment page. Hurry! code valid till 31st March 2019 only. Register Now.
Stage One – Pre-interview preparation
This is the most important stage of the job interview as it sets the tone for interview success. If you do not prepare enough, you will not be able to do well in the next few stages of the job interview process. This stage includes multiple things to do and here is some of the basic stuff to cover –
Research about the role – Make sure you go through the job description and understand what is required. Ensure that your resume is in sync with the requirements and how to explain that you are a good candidate for the role.
Research about the company – Most students fail to do this research and end up making excuses in the job interview! Read everything about the company and its parent company, and any other businesses it is involved, at least on a fundamental level.
Research about the interviewers – There is a chance that you may be told who your interviewers are, in that case, you can do a primary search on them. You can find common things such as the same college, school or city. It is useful for small talk during the interview.
Prepare for the clothing for the day of the interview – This is one of the critical interview preparation tips, you have to dress to impress for the job you want to get! Make sure you also keep a backup set of clothes ready.
Find out where the interview is conducted and how to reach the venue – Do not depend on public transport as much as possible, get a friend or someone reliable to drop you or choose a taxi if possible. Eliminate as much delay as you can.
Do mock interviews – You might be stressing out at just how many things there are to do even before an interview starts! Yes, a job interview can be stressful, and the only way to beat it is to practice. Make sure you do a mock interview with a tool like Mock AI, which will give you unbiased feedback on body language and communication skills. This will vastly improve your confidence and help you towards interview success.
Stage Two – Screening Interview with HR /Recruitment Company
Stage one is ideally prepared for right from the moment you apply for a job. It will take you time to prepare for it hence you need to make sure it starts early.
Stage two, however, is when the actual job interview process begins. This is the initial call with the HR who wants to check if you are a viable candidate and if you might fit the role. This role will be about assessing what you expect from the company.
It is here where first impressions are necessary as the HR talks to dozens of candidates in an hour, and there should be something memorable about you. This is why voice modulation is critical; you can learn to speak with impact by using Mock AI and impressing the HR.
Stage Three – Personal Interview with Line Manager
This stage of the job interview is the make or break of the interview process. You will be asked technical questions and expected to understand what the job requires. All your preparation from stage one will be fruitful in this. You can refer to our Ultimate Guide for Personal Interviews for tips to handle the personal job interview with reporting manager effectively.
Stage Four – Interview with Director or Senior Management
You might be expecting a job offer after your interview with the reporting manager, but that's not the end of it. Usually, another interview with his/her manager is conducted. This person is high up on the organizational ladder and is typically a person who is a Director/VP/Senior Manager. This job interview stage is not about technical know-how, it's all about attitude and understanding if you will fit the organization.
Stage Five – Followup post-interview
Stage five might seem tough to do but it's an essential part of the job interview. When you go back home, you should send in an email to the HR or the recruitment company about how you were glad for the opportunity to interview, and that you are eager to hear from them.
If you find the interviewers on LinkedIn, you can connect to them and tell them it was an honor to interact with them and you would like to keep in touch. However, that should be the end of it. Do not bother them again if you don't hear from them!
We hope that after putting in all this effort in your job interview, you will find interview success. Do you need any more help in interviews? Do write in your query in the comment below and we will respond to you.
Special Offer: Get AMCAT at just Rs.949/-. Use Code BLOG2019 at payment page. Hurry! code valid till 31st March 2019 only. Register Now.