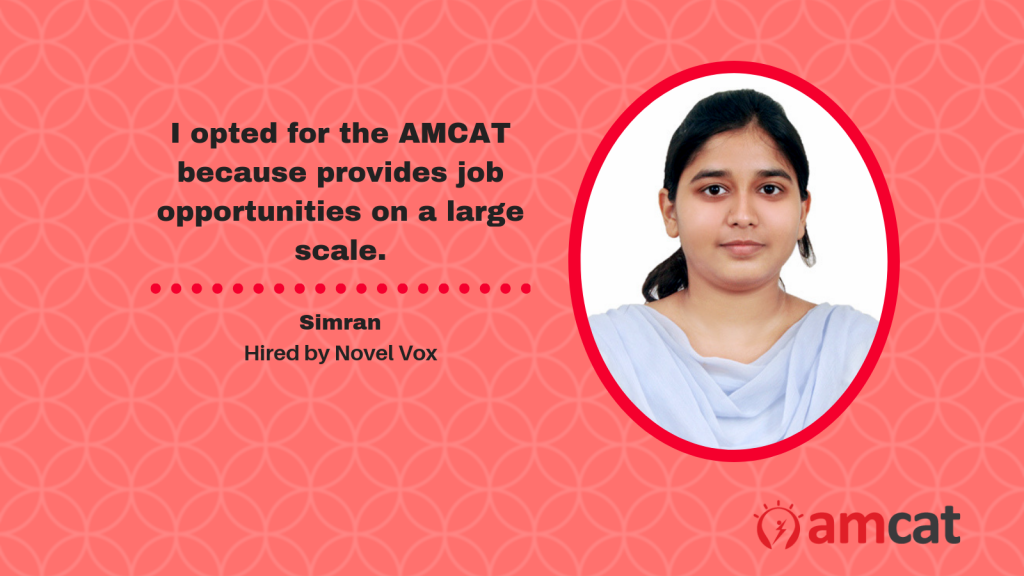 AMCAT has proven itself time and again and emerged as one of the best skills assessment exams that there is. However, what is it that makes the AMCAT exam so famous and effective? Is it the fact that it appeals to such a huge crowd of recruiters and connects job seekers directly with them or is it that it gives everyone a chance to prove their merit?
And, to get our answer to the many questions related to the AMCAT exam, we got in touch with Simran Singh who recently got selected in Novel Vox.
Q1. Hi Simran! What made you opt for the AMCAT exam?
"While looking for jobs I faced many difficulties. My college has collaborated with Aspiring Minds, so I decided to give the AMCAT test."
"I opted for it because it is linked with a number of companies in different states and cities and provides job opportunities on a large scale. It also provides you with the option to chose a job on the basis of the choices you make – the city in which you would like to work, the range of CTC and provides an opportunity to work with your dream company."
Q2. Can you describe your AMCAT test experience?
"The overall test experience was nice. The difficulty level of the modules was from easy to moderate. It tested my logical and analytical skills and the ability to interpret and comprehend different passages."
That was about the compulsory modules, but Simran also added that her "programming skills were also tested as well as her problem-solving skills."
Q3. Based on your experience with AMCAT, would you recommend it to others?
"Yes, I would like to recommend AMCAT to others."
Simran went on to further clarify the reason behind her decision was the vast job opportunities that the AMCAT exam provided. "Based on our score in the AMCAT test, we receive a number of calls from different companies. So, that ups the chances of getting to work with the best companies in the industry."
We further asked Simran how was the interview process and how did she prepare for it to get a job in her dream company. As expected, her response was that the interview was good and tested her basic knowledge of programming. Since Simran had been preparing for the AMCAT exam, she knew her basics well and did not face any issues sailing right through it.
The AMCAT exam can truly be a source of great help and inspiration to people struggling to land a good job. And, its ability to help the candidates in need and not just introduce them to new opportunities but prepare them for all the phases of a job search is what makes AMCAT such a hit.
If you too are eager to taste the fruit of success in your career, then you should schedule the AMCAT test, right now!