The unconventional career path is an outcome of more people discovering the undiscovered job market.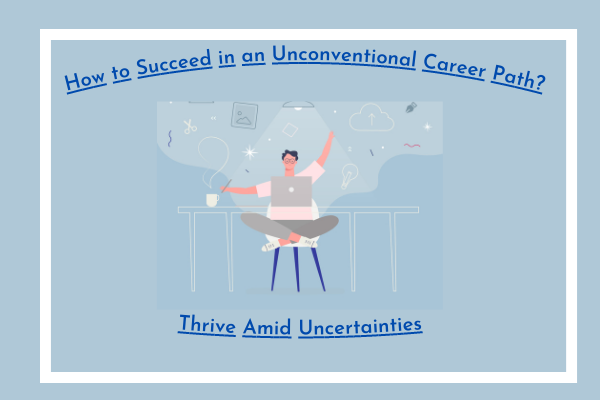 Familiarity doesn't mean that it is the reality. Similarly, in the job market, there is a pool of untapped opportunities. When a person builds an extraordinary career out of it, it is known as an untraditional way or an unconventional career path.
In the age of convergence, new options are getting discovered through the amalgamation of two distinct subjects. For example science and music, technology and painting, etcetera.
However, many students struggle in walking an uncharted territory due to the uncertainty it carries. Also, remaining stuck at the same time is not a choice. If strategized well, you can convert your passion into a profession.
Therefore, here is a detailed guide about how to create a career with unconventional choices.
What makes an unconventional career option "unconventional"?
So what made you think that a particular career option is unconventional?
With the changing world, the landscape of job is equally changing. New opportunities which were unimaginable back then are flourishing now.
That is the nature of time. You may stagnate but time doesn't. Therefore, any career opportunity becomes unconventional only because a good percentage of people are not aware of it or feel that it is not a lucrative deal.
However, in reality, there is a need for every work. That is how we build a sustainable economic ecosystem globally.
Therefore, an unconventional career is more of an outcome where people are open to wide-ranging options. Instead of relying on the 3-4 only option, people have started exploring the untapped job markets.
Since it is just the beginning. Therefore, starting is a little challenging for those who wish to opt for a seemingly different career. However, later on, only these people set a phenomenal example of exploring different career options.
Therefore, there is no such thing as unconventional jobs. It is a matter of changing times and budding opportunities which keeps sprouting accordingly.
Pro-Tip to Succeed in Unconventional Career Options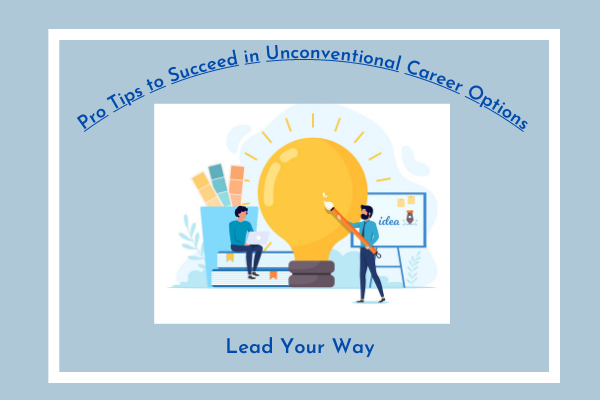 i. Listen to your Successors
It is time to pay attention to the voices that are relevant to your goals. This simply means that you are surrounded by many people. Some may or may not have any idea about your chosen path. Therefore, they will naturally have limited knowledge about the same. Henceforth, it is not a great idea to rely on their judgements.
Instead, shift your attention to those who have succeeded in it. You will discover a lucrative market for anything you pick up by researching more and more. You just need the eyes to spot it right.
ii. Your path will be unique
Ultimately your journey will be different no matter how many people you would like to emulate. So until you bring your learnings into implementation, you will remain stuck.
So make peace with the fact that your way will be different and take steps in that direction instead of waiting for the golden opportunity.
iii. Small experiments bring a greater impact
You will never know how it works until you experiment. In the process, you would learn the intricacies of the job. In this way, you can find if that is your calling or not.
iv. Address your inner questions
Ask yourself that where would you like to see 5 years down the line? Is it a business that you would like to open? Or is it an art that you would like to offer? Or is that a different kind of job which you always wanted to do?
This self-analysis will give you a clear picture of your ambitions.
v. You have access to the world today
Build communities! Today, the world is at the helm of a click of that button. This is a great opportunity to tap the untapped chances awaiting you. How? Build online presence- not just as an audience but as a creator. 
Become credible with skill certifications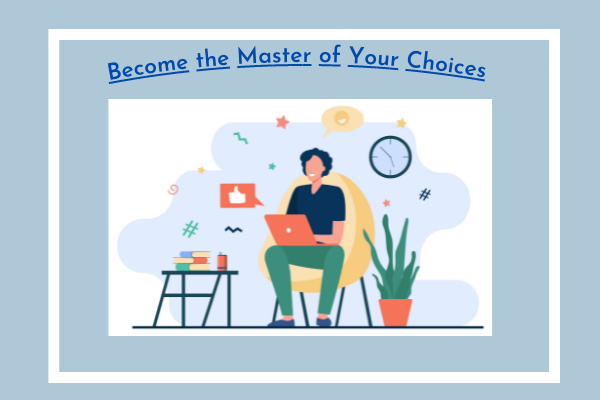 Better want to know where your quirky skills are leading you? Better take a test.
Why? 
A test offers you a clear report of the expertise level. Instead of throwing the arrow aimlessly in the air, it is better to know your ability so that you can improve the next time.
Various employability tests such as AMCAT, offer skills exams, post which you receive certification. This helps you manifolds in increasing your credibility.
Back your skills with a certificate and a portfolio (if possible). This will give voice to your vision.
Click here to book your slot for AMCAT skill certification.
Walk your "unconventional career" now.
No perfect time is going to arrive. Therefore, the sooner you start the better it would be. You may find all the strategies and blueprints to carve your unconventional choice. However, ultimately you will need to throw yourself into the process lest you will only live your thoughts and never actualize them.
It may be a side-hustle initially. However, it may turn it a full-time project with time and consistency. Just patiently strive for what you believe in.
Pay attention to every aspect of the process. Henceforth act upon it.
We hope you find your fullest expression through your work. Act upon these tips and you'll find your way. 
All the best
Get in touch!