"What are your strengths?" is usually asked questions during a job interview. It tells a lot about your personality that eventually helps the requiters to see if you are a good fit or not.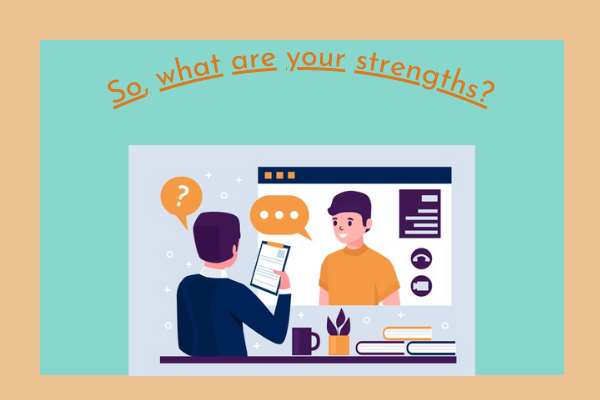 You may possess numerous qualities. However, you cannot talk about all of it during an interview, You are supposed to see what fits best for the role. This requires some serious effort on your side. Professional assistance can do wonders in easing out the situation.
Since this question may end up deciding your chances of selection, here is a detailed insight into how to answer this question. Scroll down below to know in detail.
Do Your Homework First- Prepare Well
Step 1. Discern Yourself
You cannot answer, "What are your strengths?" until you know yourself in and out. Therefore take some time off from your mobile screens, friends and family. Just sit down and figure out who you are as a person. What are your qualities? Know your weaknesses too so that you outplay your strengths and a get clear picture of yourself.
Step 2. List down your strengths
You can answer only when there is clarity within. All the sample practices will fall at bay if you lose out on this fundamental point. Thereby leading you to offer a half-hearted, copied response which will eventually put your name on the rejected list. Therefore, list down your strengths. By doing so you will come out with your unique style instead of sticking to a monotonous response.
Step 3. List down the job role
Your aim ultimately decides how you are supposed to strategize your answer to the "what are your strengths?" question. The recruiters always share a job description before scheduling an interview call. Now, this where your actual homework starts:-
Write down the tasks one by one,
Visit the company's website,
Study their values and vision,
See how your strengths would cater to their values,
Understand how your services can contribute to their growth.
Did you see how holistically you can create a roadmap for your answer? Your strengths can be a driving force for an enterprise. So never underestimate your response. Rather, approach it with an entrepreneurial mindset. See how you can become a better workforce for them. You will eventually realize how you are coming up with an authentic response which is what a recruiter is essentially looking for.
Step 4.Find your intersection
You will defeat the purpose of the answer if there is no congruence between the job role applied for and of course your strengths.
For instance, you are an empathetic person who blends well with a writing role, communication role, marketing and more. However, will it bind well with a coding role where all the recruiter is looking for you to be damn polished at error-free codes which can ensure faster programs?
Register yourself for AMCAT Mock AI to get professional assistance to answer such questions.
"What are your strengths?" answer sample response
Every job roles demand different kinds of strengths. While some call for analytical competence others prefers communication or a higher emotional quotient.
Here What are your strength example response:-
For instance, you have applied for a Sales Manager role. Now, this job requires proactiveness, communication skills and above all your understanding of people's psychology. So here is how you can articulate it.
"Sharing excellent communication skills, I enjoy interacting with different kinds of people. Besides, learning about various behavioural aspects of humans hooks my attention for long hours. Apart from that, I firmly live by the values of empathising with others as only by putting myself in their shoes, will I ever understand the gravity of any situation, business or problem."
Let's consider another example. For instance, you have applied for a Software Engineer role. This job requires technical competence along with an analytical mind with excellent problem-solving skills. So remind yourself of all your talent, put that in one box and articulate it well during your dream job interview.
"I am an analytical person. I believe in finding logic to every situation that helps me evaluate and estimate the best outcome. Having shared a keep interest in coding, I try to experiment on a variety of problems and offer error-free codes for efficient programs. I am meticulous in every aspect of my life. I believe before you perform a task, organize yourself first."
Conclusion
Now that you know how you must answer the question- "What are your strengths?", follow these strategies to give your best shot.
Always prepare yourself with the four simple steps as described here. This will help you ace this question in any job interview you appear for.
You can seek professional assistance well. It monitors your answers and body language. On a detailed evaluation, it will offer a comprehensive report to help you upgrade one notch higher:-
Click Here to register for AMCAT Mock AI.
All the best
Get in touch!