"Where do you see yourself 5 years from now?" is probably the most expected questions asked during a job interview. While many freshers apprehend answering it. On the other hand, many recruiters never stop shooting such questions during the HR round as it helps them understand the personality of the candidate.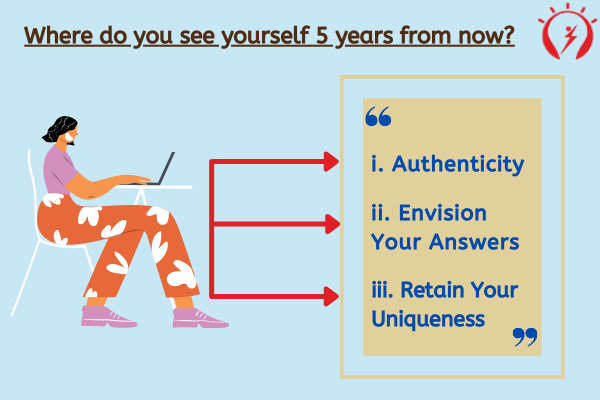 Surprisingly, this question helps the employer demarcate if the applicant is fit for the role or not. It not only shows one's farsightedness but also one's keenness to learn and grow in the process. Therefore, here are three interview tips you should remember while answering, "Where do you see yourself 5 years from now?" in an interview.
1. Do you cook up new stories while answering "Where do you see yourself 5 years from now?" 
It may not be a good idea. Let's find out why:-
Undeniably, a well-framed answer is imperative. However, this does not imply that you lose all your authenticity and cook up stories to come to an acceptable response. Many freshers mistake copying a well-framed answer by their mentors as theirs. What was used as an example is not something absolute? After all, your personality and experiences even as a graduate with no professional experience are different. Hence, you need not frame an answer which does not exist. Let an example remain an example and not a set in stone for you. Thus, don't stick by the sample answers. Create your own as per your situation. Also, there is no harm in propounding your different ideas. This would rather help you stand out from the rest of the applicants.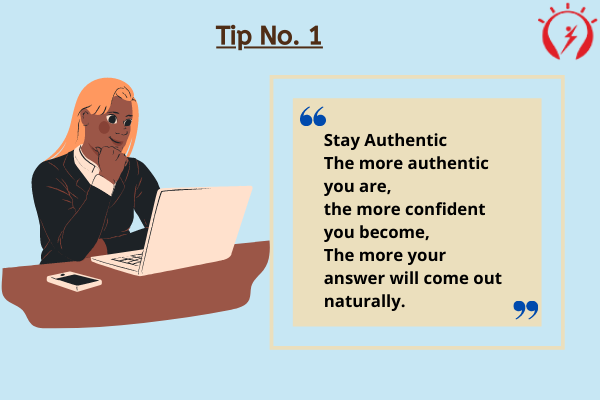 Also, recruiters are well-experienced professionals who can't be fooled around easily. They will simply catch hold of fabricated answers. Hence, stay true and confident while responding to such questions.
It is fine if you are not sure about your goals. All you are required to do is enounce your ambition in the most presentable way with utmost clarity. Let us understand it through sample responses.
Sample 1.
I see myself as the manager (any senior designation) of the company. My aim is to work hard and apply my experience for the company's and my own growth.
Sample 2.

I wish to enter my fresh slate with numerous holistic professional experiences. I see myself as developing with every project that would come my way. I am committed to throwing myself for the next 5 years to polish my abilities to their best. Not sure where I'd be in this span of time. However, I am sure that wherever I go, I will create maximum value through my work.
Did you see it? Though the first sample is fine. But it seems very obvious and too cooked up as you are straightaway claiming a position. That is not wrong. But it can be presented in a holistic way. Now, sample 2 is all about showcasing your learning attitude. Also, it is doesn't appear obvious. Of course, you'd add your flair into these samples which will bring out a completely different response altogether.
2. Live your vision. Don't simply say it for the sake of it
Answer it as if you are living it. This implies, that you are experiencing this as your current reality. By doing so, you bring out the authenticity in your response. You not only create imagery in your mind but also in the recruiters' mind. This helps them understand various qualities which they otherwise won't be able to comprehend about you. Thus, while answering, "Where do you see yourself 5 years from now?", you must ensure that your answer contains this element.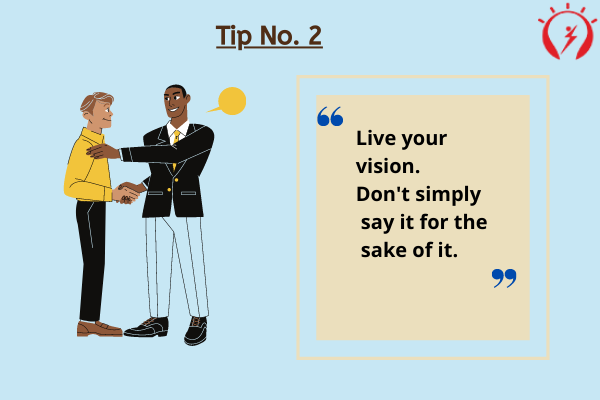 Also, there is no harm in being passionate about something completely new. Rather it is a strength. You can always give a rough idea about what you are planning at the moment.
Let's consider an example of a fresher software engineer for more clarity:
Sample 1.
"So I believe in holding high goals for myself. Therefore, I envision myself as heading the Technical Department of the company. I am keen to mentor my juniors and share my learnings thereby promoting a holistic environment. Once this goal is achieved, I will set forth for higher ambition in life."
Sample 2.
"Well, I am really thrilled about this opportunity. Though, I hold high ended goals for my career path. But for the five years down the line, I see myself as a specialist in my domain and manage the technical department. I wish to develop a better sense of decision making so that I can create value for my company. Also, I believe in sharing my knowledge as I gain experience. Therefore, I am keen to mentor my juniors and share my learnings thereby promoting a holistic environment. Once this goal is achieved, I will set forth for higher ambition in life."
Can you spot the difference between the two?  The second one is quite comprehensive. On the other hand, the first one is crisp. It mentions an absolute scenario. While the second option shows a flexible one. It displays that you are open to growth and learning. Along with that, it shows your leadership qualities too.
3. Retain your unique element. Too much perfection will leave your response boring and mundane
Usually, many freshers stick to the interview preparation material. As the result, it hampers their imagination in retaining their unique element. See, seeking support is not a problem. However, taking every line with a pinch of salt definitely is.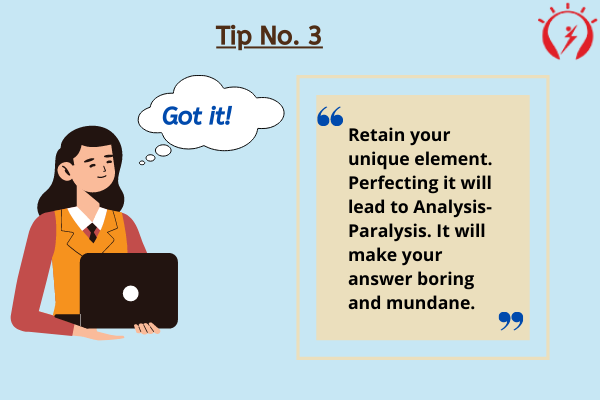 Every candidate has a distinctive personality. Therefore you must always stick to that quirky element your carry within. It helps you stand apart. Also, this eventually leaves an immutable impression on the recruiter. Therefore, always live by your unique element.
You can talk about your strengths and weaknesses too. Then you can hook them with how you are going to use them for the larger goals.
Sample.
"In the next five years, I am determined to gain expertise in this niche and lead my team by mentoring them through my experiences and mistakes. Cannot surely, acclaim where I would be 5 years down the line but for sure, I will add value wherever I go. My vision is to see my company growth and I am committed to working there with utmost honesty and integrity."
Can you see, how you can play with your strengths and qualities to highlight your uniqueness? That is how you can demarcate your abilities and put them forth in the best possible way.
Wait! Here is an exciting chance for you to describe your vision and win exciting prizes for the same. All you are required to do is participate in the AMCAT Ambition contest wherein you will get a chance to share your professional goal video and achieve the pathbreaking recognition and rewards for your future success.
You can register here to participate in the AMCAT Ambition contest.
So now that you know these three crucial tips to answer "Where do you see yourself 5 years from now?", go all out and give the best interview of your life.
All the best!