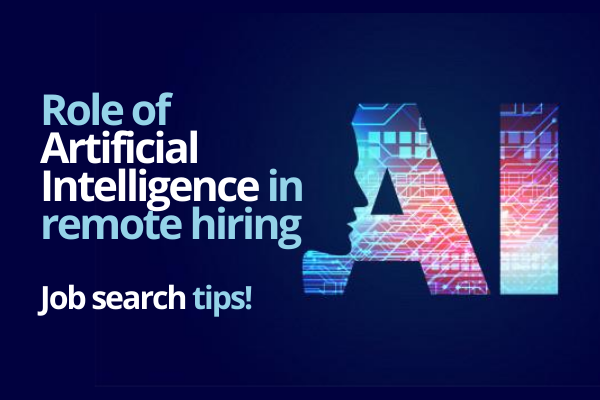 Thanks to the coronavirus pandemic, the dynamics of your job search have changed and may not revert to "normal", especially in case of the hiring process. Various industries like travel, hospitality, supply chain and logistics are getting hit due to social distancing and COVID-19 driven lockdown.
The global pandemic will continue to have an adverse effect on the country's employment as companies will have to restructure and re-evaluate their business plans. However, on the brighter side, there are jobs during COVID-19 in companies in sectors like IT, pharmaceuticals, FMCG and E-commerce are still hiring candidates. The interview and hiring process has been conducted online with the help of conferencing tools. It is expected that even after reopening of companies, remote hiring will continue to be a part of the recruitment process.
So, in the current scenario, AI will play an important role to make the recruitment process more effective and efficient. And, to keep up with this new normal, you will need to change your approach to get the attention of the recruiter
Role of AI in the Hiring Process
Artificial Intelligence was already booming before the coronavirus pandemic but now, it is even more in demand. So, from shortlisting candidates to identifying potential skills, AI is going to become a major part of your job searching during COVID-19.
Screening Job Applications
AI-powered tools can help the recruiter screen profiles for relevant positions easier. It can investigate thousands and thousands of job profiles within minutes and save time. 
Moreover, it can give the HR manager more time to focus on other important tasks like creating relations or connecting with shortlisted candidates.
Match the right skills
Every position requires certain skills, personality and abilities. With the help of AI, recruiters can use data and match the candidates with the right job openings.
This will improve the selection criteria and increase the chances of finding the perfect candidate for the job.
Identify skills in demand within the company
In almost all the organisations, there are internal job postings which the existing employees can apply for. During these trying times, organisations want employees to take up additional roles and responsibilities.
Artificial Intelligence will help screen profiles within the company to identify the right candidates for the required role.
Role of AI in the Post-pandemic world
Once the COVID-19 pandemic subsides, the employment opportunities will rise, which will increase the number of applicants for a single job opening. Now, this will put the hiring managers under huge pressure to screen and shortlist candidates, and find the ideal candidate for the required role.
The role of Artificial Intelligence will become even more crucial. With AI-infused automation, organisations can successfully cut down on costs and save time. Moreover, it will further increase the speed and accuracy, which will improve the quality of artificial intelligence remote hiring.
AI jobs in demand
Now, you already know that coronavirus pandemic has driven the demand for Artificial Intelligence. That means that job profiles related to AI will increase in the future.
In fact, organisations are looking for candidates with a polished skill set in AI, machine learning and computer languages that can help deliver innovative and customised goods and services.
So, during the lockdown, you should build up your skillset to improve your job search strategies and apply to jobs that are in demand.
Artificial Intelligence has been around for some years and will continue to be in existence. Companies are planning to use AI to strengthen their position and improve organisational efficiency. AI-powered tools are going to become a necessity for the hiring and companies are integrating them. 
Moreover, job profiles relevant to Artificial Intelligence are also going to rise. So, you should use this lockdown to your advantage and start your learning. This will help you strengthen your job search and will get you closer to your dream job.
So. make AI your best friend the lockdown and open a room full of job opportunities.