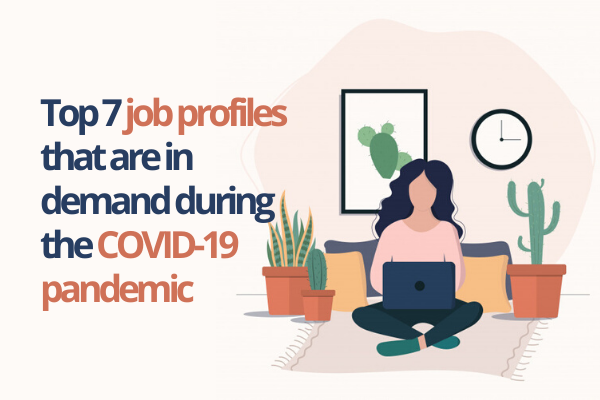 Looking for job profiles that are in demand during the COVID-19 pandemic? If yes, then you are in the right place. Although the COVID-19 has filled the job market with uncertainty and fear, the demand for niche job profiles is still there.
The hiring managers are prioritizing skills and using AMCAT to shortlist candidates based on their skills and job readiness. Moreover, face-to-face interviews are replaced by virtual interviews. So, keep yourself updated with changes happening in the hiring spectrum.
Start developing your skills and keep your job search on. In fact, this is the correct time to take-up new skills. That is why we have curated a list of jobs profiles in demand during COVID-19 pandemic.
Data Scientist
All the important decisions in the corporate world are based on data. That is why data job profiles are in demand and will continue to be in demand.
In this multidisciplinary field of work, you will need to use scientific processes, machine languages and systems to extract and analyse data to make impactful decisions.
Video Producing
Due to the COVID-19 pandemic, streaming companies are seeing a rise in demand. And, having skills in video production and content creation will open more opportunities for you in this field of work.
In addition to that, companies are also looking for video creators to make digital content for social media platforms.
Business Development Executive
Pandemic or no pandemic, companies are always going to need people to pitch their goods and services. That is the reason why sales is one of the top job profiles in India.
To bag job opportunities in sales, you need to have excellent communication and interpersonal skills. Moreover, having the power to convince others to buy your products or services is an advantage.
Security Analyst
Cybersecurity professionals are in huge demand and will continue to be in the future. One of the biggest reasons is that companies are trying to improve the security of their digital infrastructure as they continue to operate remotely.
So, to show the recruiter that you are skilled for these kinds of job responsibilities, you can take up the AMCAT. In the AMCAT exam, you can choose modules like Automata and Computer science specialisation to quantify your skills.
Cloud Engineer
If you are looking for IT job profiles, then cloud engineer is one of the most lucrative job profiles. As a cloud engineer, you will manage all the technical workload associated with Cloud Computing.
Moreover, you need to evaluate the existing infrastructure of the company and research logical and financially feasible solutions for moving different functions.
SEO Expert
As an SEO expert, you need to increase web traffic and achieve a high ranking for the keywords that can increase your sales and revenue of your website.
So, if you want to start your career in this job profile, then you should complete some relevant certifications. Having certifications on your job resume can increase the validity of your skills and improve your credibility in front of the recruiter.
Artificial Intelligence Specialist
The COVID-19 pandemic has driven the demand for Artificial Intelligence. So, it is safe to say that job profiles related to AI will continue to rise.
Companies are looking for candidates with skills in AI, machine learning, and languages that can help deliver innovative and in-demand products and services. In addition to that, having the skills to customize products is also an added advantage.
These are the top 7 jobs profiles in demand during lockdown that you should explore. Take-up new skills and hone your existing skillsets during this lockdown. Having these skills on your candidature will increase your chances of getting the job of your dreams.