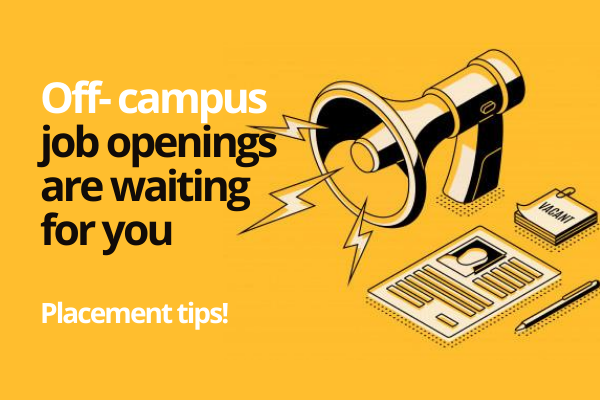 The coronavirus pandemic has had a turbulent impact on the off-campus placements. Whether it is hiring or any other plan related to investment opportunities, the global pandemic has put everything on hold.
However, even during these trying times, there are ample job opportunities available for deserving candidates. The impact of the outbreak can be seen, not only there is a new mode of conducting interviews but also the demand for new work-from-home skills.
In fact, many of the reputed companies are using employability exams like AMCAT to shortlist candidates for profiles like software engineer, SEO specialist and sales executive. So, continue reading the blog to know more about the off-campus jobs for 2020 batch that you should apply.
Business Analyst
Right now, companies are trying to restructure and re-evaluate their future business and they need someone to conduct market analyses to get a better understanding of both product lines and profitability.
This is where the Business Analyst comes in the picture. You are responsible to develop and monitor data quality metrics and ensure that business data and reporting needs are met.
To be a successful Business Analyst, you need to have strong technology, analytical and communications. On top of that, having fluency in computer languages like Python and R is an added edge. 
So, if you are interested in making impactful decisions, then apply to this job profile right away.
Sales Executive
In order to keep their businesses afloat, companies are looking for new ways to increase their revenue. That is why hiring managers are looking for candidates with the talent of identifying new opportunities, building business and selling goods and services.
As a business development executive or a sales executive, you need to maintain corporate relationships and create new clients. So, if you want to have a successful career in this field of work, then start working on improving your skillsets by completing relevant certification courses.
Apply to sales-related job openings in the AMCAT job portal and kickstart your career with a bang.
Marketing Specialist
To keep up with the digitalisation of marketing campaigns and platforms companies are looking for talented candidates who can maximise profits by creating marketing strategies that match the requirement of the targeted audience.
A Marketing Executive creates and oversees paid campaigns to promote products, services or ideas. Moreover, you need to be creative, analytical and a team player to have a successful marketing career.
Get a chance to work closely in domains like advertising and product production, apply now!
Software Engineer
Technology is going to play a crucial role in overcoming the global pandemic. AI-powered software is the next big thing, which will increase the demand for software engineers.
As a software engineer, you need to gather user requirements, define system functionality and write code to create new tools. The main responsibility of the Software Engineer is to build high-quality, innovative and functional software as per the coding standards and technical design.
To create a career as a Software Engineer, you need to get your coding languages like C, C++ and Java certified. This will show the recruiter how polished your skills are and whether you are the right candidate or not.
So, don't waste any more time, pull-up your socks and apply to off-campus placements on the job portal.
SEO Analyst
Companies are taking all the precautionary measures to keep their business healthy. And, the main responsibility of an SEO Analyst is to maintain the health and visibility of the company's official website.
You need to work towards keeping the website informative and easily visible for both the audience and the business on the internet. So, you need to shoulder the responsibility of attracting targeted audiences to a company's profile and maintain a social media presence.
Therefore, if you are targeting off-campus placements, then you need to look at the SEO Analyst as a career option. There is ample job opening in this area of work which you should apply for.
These are some of the top off-campus jobs for freshers that you can't afford to miss when searching for your dream job. So, make the most out of the off-campus placements opportunities. 
And, if you want to give your job search an exclusive edge, then you should opt for the AMCAT exam. Due to the coronavirus pandemic, you can give the AMCAT exam from the safety of your home. 
Moreover, a good AMCAT score will take hours from your job search. You can also apply to AMCAT tailormade job opportunities and increase your chances of getting a job in your dream job.
Don't shy away from applying to the targeted job profiles. Start your career with fireworks.