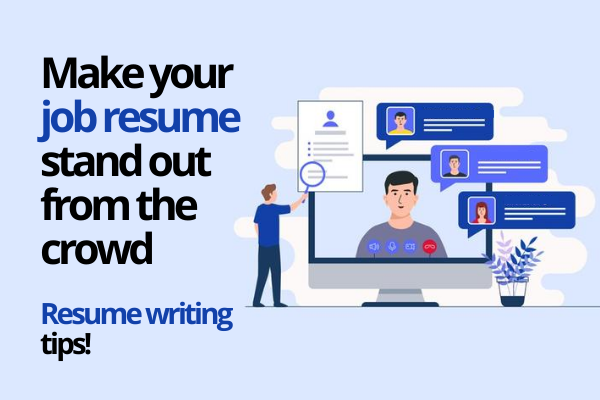 The hiring managers use job resumes throughout the virtual hiring process to learn more about you and whether you are the right fit for the job or not. Although, there are a few widely used resume formats and styles, however still, your job resumes should reflect your unique experience and relevant skills.
It is very important to highlight your candidature during the pandemic. So, make sure you tailor your job applications and use different job resumes for different job roles. All thanks to the global pandemic, there has been a spike in the number of job applications, so it is your job resume which will help you make a cut.
To help you create the right job resumes amid the global pandemic, here are a few key job application resume writing tips that will help you make and design your job resumes.
Job Profiles You Are Interested In
One of the ways the global pandemic has changed job resumes is by affecting the job market and the emergence of new skills to highlight. That is why you should first study the job market, find out job profiles in demand and learn new skills.
You should go through the job portals and LinkedIn to find out about the impact of COVID-19 on the job market. In fact, through LinkedIn, you can connect with recruiters of companies you are interested in and learn more about the hiring process.
Having a sound knowledge of the present job market will make it easier for you to create a targeted job application, which will increase your chances of getting shortlisted. Moreover, make sure you highlight remote skills in your job resumes to show the recruiter that you can effectively work from home.
Review Resume Examples
Once you start working on your resume, study the example of job resumes from your industry to find out the best practices. While there are many ways for you to use resume samples, there are some common takeaways you should look out for.
The recruiters have a minimal amount of time to go through your job resume and application, so your resume should be simple and straightforward.
Only include the most key and relevant information in your job resumes. Each section of the resume should be short and to-the-point, including resume summary, job responsibility and experience description. This will enable the recruiter to know more about you and will quickly know your fitness for the role.
Recruiters are highly responsive to measurable proven value, mentioning numbers will help the recruiter better understand the value you will bring to the position.
Resume samples are not meant to be copied exactly, they should be used as examples to help you create high-quality job resumes in your job industry.
The Right Resume Font
You only have 6 seconds to make the right first impression on the recruiter. So, to make sure that the recruiter read your resume, it should be as clear and as easy to read as possible. Use basic fonts like Arial or Times New Roman. Make sure the font size is between 10 and 12 points. Having a clear and readable font will help make your resume appear clean and professional.
Reduce or eliminate any extraneous whitespace as too much blank space will make your resume sparse, which might raise a red flag. You can reduce white space by increasing your font size to 12 points or adding an optional section in your resume.
In addition to that, you should use a one-inch margin size on all sides of your resume. If you have too much white space, you should consider making your lines spaced by 1.15 or 1.5. You can fill the extra space in your resume by increasing your margin but it should stay below two inches.
Resume Content Tips
Your ideal job resume should be short and crisp, without leaving out any key information. The recruiters don't spend a lot of time reading each resume. So, if your resume includes old or irrelevant information then that might overshadow any relevant and important information.
Include only work experience, educational qualification and skills that are relevant to the hiring manager. To find the relevant attributes, you should closely read the job description. So, you should prioritize important information and draw attention to your skills and achievements.
In addition to that, when writing your resume use power words like "achieved", "earned", "accomplished", or "completed". If your job resume is too long or hard to read, then you might want to consider making sentences shorter and concise.
There are plenty of resume writing tools available online that help you draft the perfect resume content within minutes.
Proofread Your Job Resumes
Undergo several rounds of proofreading to ensure that there are no spelling or grammar errors. There are several proofreading tools available online that you can use to review your resume. However, it is always helpful to ask your friends or family members to go through your resume.
A third party point of view will help you find ways you can correct or improve your job resume. Even a small mistake can seriously jeopardize your chances of moving to the next round of interviews. So, before sending your resume, make sure it is spotless, professional and relevant.
Not much has changed when it comes to resume writing, however, to have a successful job search you need to have a perfect job resume by your side. So, follow these resume writing tips to create customised job resumes and start your job hunt.
You can also take the help of our flagship product Resume Buddy to create your perfect job resumes within minutes. With Resume Buddy you don't need to worry about making mistakes that might jeopardize your chances.
So, what are you waiting for? Start working on your job resumes.