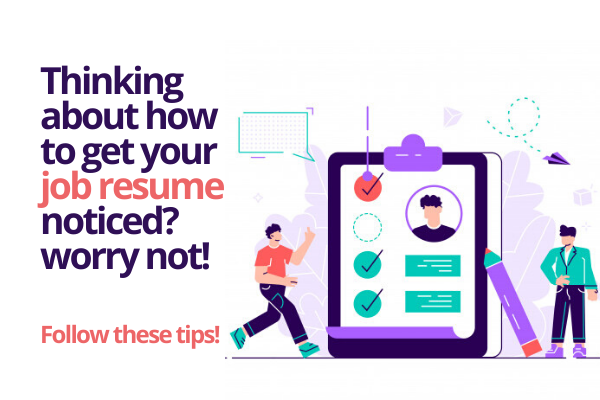 For a single job role, the recruiters literally receive thousands of applications. And, it only takes a scan of your job resume before deciding whether or not to progress your application to the next round. To stand any chance of progressing to the next round of the selection process, your resume needs to hook the reader within seconds. And for that, you need to wow them with how skilled and job-ready you are for the next big opportunity.
Your job resume has the power to put you in touch with your dream job and help you move your career to the next step. So, get ready to make an eye-catching job resume with these tips.
Resume Format
The format of your resume is of utmost importance. Keep it clean and simple with a lot of white space in-between headings. All the information in your job resume should be in reverse chronological order. Use bullet points rather than paragraphs when mentioning your responsibilities or achievements.
Start with your contact details on top, followed by resume headline or career summary. If you are a fresher, then your educational qualifications will come before your extra-curriculum activities/internship. However, if you are an experienced candidate, then your work experience will come before your education qualification. In both cases, you should highlight your skills and abilities.
Relevant Information
It's tempting to put all your achievements in your job resume. But the recruiter is not interested in reading your autobiography. Every ounce of information in your job resume should be relevant to the job post. Try to include keywords from the job description. However, avoid excessive use of technical jargon as it might overwhelm the recruiter
Be Creative
Your job resume has just 6 seconds to grab the recruiter's attention, so make sure that your resume is eye-catching. In fact, if you are applying for creative job profiles like Graphic Designer, Content Creator, Video Producer and Fashion Editorial, then you should give the recruiter a preview of your creative skills.
For instance, if you are applying for a job where you need to have video creating skill, then you can attach a video resume with your paper resume. This way through your resume you will be able to show the recruiter how skilled you are.
However, before you unleash your creativity, research about the company as well as the job position itself to gauge whether a form-breaking job resume will be accepted or not.
Cover Letter
A cover letter gives the recruiter a snapshot of all that's great about you and why you are the right fit for the job role. The importance of a cover letter can't be emphasized enough and is a crucial part of your resume building process. The personalised letter makes the recruiter focus more on your candidature and what you have to say.
Moreover, it gives you space where you can include information which doesn't fit in your resume.
Time To Proofread
Before you call your resume "resume' – take a few seconds to proofread it. Mistake no matter how small can jeopardize your chances of making the right impression on the recruiter. A spelling or grammatical error will jump right off the page and get noticed. To avoid making silly mistakes, you can take help of your friends or family and ask them to proofread it for you.
Creating an impeccable job resume can be challenging but there are ways to tweak it and get your resume noticed by the recruiters. And as a candidate, you need to do your part to make sure you are getting your resume to the front line.
However, if you are unsure about your resume writing skills, then you can take help of Resume Buddy. With Resume Buddy, you can create a professional and eye-catching resume within a few minutes.
So, use these job resume tips and give your best when preparing your job resume.