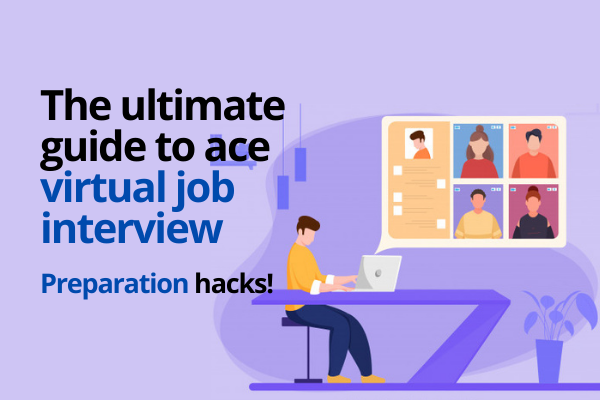 The coronavirus pandemic calls for social distancing, which means that your next interview round could be a video interview. Due to the pandemic, the way we work is radically changing and so is the recruitment process.
The video interview is not very different from traditional job interviewing experience. Yes, there are a few things that you need to understand and get comfortable with. But with the right mindset and an ample amount of practice, you can easily use the job interview to make yourself shine.
So, get ready to confidently face the camera by following these top 5 video interview tips.
Re-check your equipments for the video interview
Do a technical run before a few days of the scheduled video interview to make sure that your gadgets are working properly. Ask the recruiter beforehand, which video conferencing tools they will use to conduct the interview.
Once you have downloaded the app that you will need for the job interview, make sure you have a professional username. Moreover, double-check your laptop/desktop's camera, microphone and internet connection.
If possible, try to do a trial run with a friend or a family member, so that it gets easier for you to find out the areas where you have to improve and gets ample amount of time to adjust to this new mode of interviewing.
Dress professionally
Just because it is a video interview doesn't mean that you can attend it with a shirt thrown on top of your shorts. You should dress as you would for a face-to-face job interview. This will give your confidence a much-needed boost.
Try to wear neutral tone shirt with dark pants, polished shoes and little to no makeup or jewellery. Wear your job interview outfit during your trial run, so that you can get feedback from the viewer on how you look on the screen.
Find a distraction-free space in your house
It is very easy to get distracted when giving a job interview from home. So, make sure you choose a location in your home where you won't be bothered. If you live alone, then you can hang a sign on your door requesting the mail or package deliverers to not ring the bell.
Moreover, make sure the room in which you are conducting the interview is free from clutter. The lighting should not be too bright, in fact, natural light is the best.
Other than that, remember to turn-off email, social media and text alerts as that might distract you during the video interview. Ask your family members to not disturb you during the interview round.
Be well-prepared
Prepare for the virtual job interview as you would for the in-person job interview. Log in at least 10  minutes before the video interview begins. Also, make sure you have your job resume nearby, along with the job description and some important key points about the company and the job position.
In addition to that, make sure you prepare answers to some common interview questions so that you can answer them confidently and fluently. Maintain "eye contact" by looking directly into the camera, try not to move around much and keep good body posture.
Sit with your back straight, feet on the ground and arms resting either on your lap or on your desk, don't slouch while talking to the interviewer and make sure your face is centred.
Follow-up with the recruiter
After the video interview, it is important for you to follow-up and thank the interviewer for taking the time to meet you. You should use this as an opportunity to highlight your qualifications and mention all the details that you forgot to say during the job interview.
By following up with an email, you will show the recruiter that you are serious about the job role and a strong candidate for the job. In fact, if the hiring manager is deliberating between you and the other candidate, then a thank-you note could give you an edge.
Conclusion
Treat the video interviews for hiring as you would with any type of job interview. Virtual interviews are all rage, nowadays. So, it is a good idea to familiarize yourself with the variable of this job interview, so that you can prepare well for it.
That is why the best way to take prepare for your dream job interview is by giving regular mock interviews with Mock-AI. This will help you sharpen your interviewing skills and find areas where you need to improve.
So, start giving mock interviews, while staying at home and get a chance to start your career with a bang.