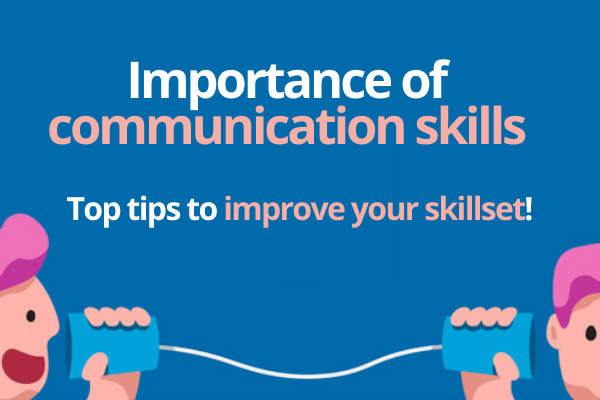 English is the most widely spoken business language of the world and is accepted globally. That is why having good communication skills in English is a must to succeed in every facet of the business.
And, if you are thinking of starting your career in your dream company, then you must be able to have the ability to understand and be understood by others. You should be able to effectively communicate your ideas and thoughts with your co-workers, have a listening ear and ability to give and receive constructive feedback, then only will you be able to succeed in your job role.
In this blog, we will focus on what English communication skills are and will share a handful of tips to help you on how to improve English communication skills. So, let's get started.
Importance Of Communication Skills
In order to effectively give and receive different kinds of information, you need to have the ability to communicate. It could include sharing ideas, getting a better understanding of what is happening in your surroundings and collaborating with others.
Moreover, communication skills will help you confidently talk to others face-to-face, on the telephone and through collaboration tools. You will also need to have the sense to correctly decode the office mails and write error-free mailers to others, especially when you are working from home.
So, whether you are already working or hunting for job opportunities, you need to have a good command of your language if you want to succeed in your future endeavours.
Tips To Improve Communication Skills
The best and only way to improve your communication skills is by practising. You should first start by identifying your weaknesses and then create a plan to practice and develop them.
Regularly try to talk to your friend or family member in English: At the start, you might feel weird or shy, however, to hone the communication skills you need to start talking in English. This will help you get over your diffidence and build your confidence level.
Ask for constructive feedback: In order to actually make a difference in your skills, you should ask your friends or colleagues to give you their honest criticism. This will help you better understand the areas where you need to improve and focus more on.
Make it a habit: Communication skills are not something that you can mug up and be done with it. It is a constantly evolving skill that you develop over time. To turn yourself into a great communicator you need to more responsive, maintain eye contact and try to give motivating feedback.

Attend seminars and workshops: Attending online classes or seminars on ways to effectively communicate can help you take your practice up by a notch. Many of them will give you certification on the completion of the course, which might add more value to your job resume or job application. So, you should seriously consider enrolling yourself for one of these online workshops.
Join groups: You will find plenty of English language groups available on Facebook or LinkedIn. You should join one of these groups to practice your speaking skills. Moreover, you can take the initiative of conducting an online coffee meet to practice your communication skills.
Conclusion
In order to effectively communicate during your job interview or at work, make sure your language is easy to understand and avoid speaking in a long sentence to reduce the possibility of miscommunication. Moreover, try to be considerate of the listener's feeling when presenting your ideas and thoughts.
Above all, you should be calm when talking with others in the workplace and be very mindful of your tone. Even though you might be working or giving virtual interviews at home, but that doesn't mean you will stop paying attention to your body language. It is an essential part of your job search and will make a huge difference in your workplace. So, don't even think about forgetting it.