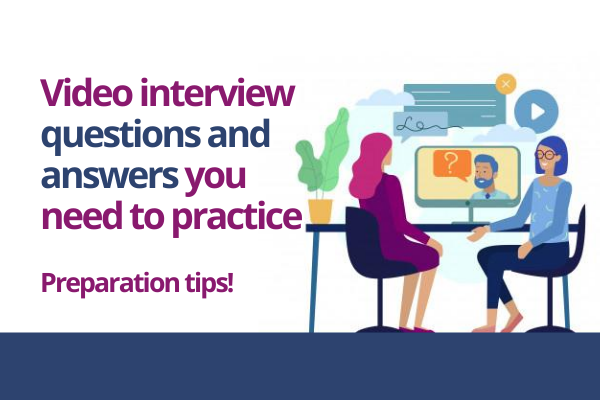 Due to the coronavirus pandemic, more and more companies are turning to video interviews as a way to recruit potential candidates. A video interview is a safe alternative to the face-to-face interview, with less cost and more geographically diverse talent pool. With virtual hiring on the rise, it is a good time to find out the kind of video interview questions you should prepare beforehand.
Seize the chance to show the hiring manager that you are the right fit for the position and that you are interested in the company. So, take a look at these top 10 video interview questions and use the tips to create impeccable interview questions.
Q1: What can you tell us about yourself?
This is one of the most common and highly popular interview questions. Although it is an open-ended question, that doesn't mean there aren't any bad answers.
Start with talking about your university education, why you chose your field of study, why you are job searching and what you are looking for. Highlight significant pieces of your educational qualifications, extracurricular activities, skills and learning opportunities.
However, keep everything under two minutes and stay on track. This is one of the most important video interview questions and to need to practice it at home. Write down bullet points and make sure you are mentioning all the ket details as you recite your story.
Q2: Why should we hire you?
Go through the job description and find out what the company is looking for because if you want to get hired then you need to make the video interview answers about them.  In order to adequately answer this question, you should follow the company on social media platforms like Facebook, Instagram, Twitter and LinkedIn.
Show the recruiter that you did your homework and highlight your skills and experience that is relevant to the job role. Give appropriate examples wherever applicable. Show the recruiter that you are interested, motivated and happy to become part of the company.
Q3: What Are Your Salary Expectations?
By asking this question the recruiter wants to know how much value you put on your skills and abilities. Moreover, the recruiter might want to know whether you have the confidence to put forward a figure.
In order to crack this video interview, you need to research the salary structure prevailing in your chosen industry. Go through the job portals and find out how much companies are paying people with your qualification and skill-set.
Always remember to quote a number which is a bit higher than the average salary. However, that doesn't mean that you can quote any number out of thin air.
Q4: Why do you want this job?
In your interview answer, you need to be able to explain your goals and aspirations. Show the recruiter that you have researched about the job role and are ready to shoulder responsibilities associated with the position.
Talk about how this particular job role will help you get closer to your future goals and aspirations. This will show the recruiter that you are serious about your career and know what you are doing
Q5: Describe your ideal work environment
Due to the coronavirus pandemic, the workplace and work environment has changed. So, the recruiter is trying to understand whether you will be the right fit for the job. 
In your answer, make sure to highlight that you can efficiently work from home and can easily collaborate with other team members. Keep your communication and interpersonal skills at the forefront as these abilities are an essential part to keep the workplace motivated and positive.
Q6: Are you comfortable working from home?
Slowly companies are opening-up and calling employees back to work. However, a large number of companies are still operating from home. The recruiter wants to give you the choice of whether you want to work in the office or from home.
If you choose work from home then make sure that there aren't any blunders during the video interview. This will show the recruiter that you have the skills to effectively work from home and complete tasks without much guidance.
Q7: What is your greatest weakness?
Talking about your flaws, especially in front of the recruiter, is not something you would want to do. However, no one is 100% honest during a job interview and the way you answer this question will tell a lot about your true personality to the recruiter.
Mention examples of your failures and how you are working on overcoming your weakness. Don't answer this question by showing a lack of self-awareness and dishonesty.
Q8: What are your strengths?
This is one of the most staple and favourite interview questions of recruiters. However, that doesn't mean you can take it lightly. When answering this question, either be too arrogantly or too humbly, you need to create a balance between both.
There are a few job-specific skills that you must possess. So, when talking about your strengthens, make sure you slip in a few relevant examples and incidents on how you have honed your skills and abilities.
Q9: Where do you see yourself in 5 years?
This question gives you the opportunity to show the recruiter that you have long term goals and aspirations. So, through your answer, you need to show the recruiter how do you plan to achieve them.
Put your present skills and abilities in the limelight, also drop in some of the industry-related skills that you plan to develop in the near future. If you don't have any long term plans, then try to keep your answers broader and general, avoid being specific in your answer.
Q10: Do you have any questions for us? 
Simply answer, "Yes"
A job interview is a two-way interaction, so make sure you prepare a handful of questions to ask the interviewer.  Asking relevant and thoughtful interview questions can improve your chances of bagging the job opportunity.
Your question should be relevant to the job profiles, company or industry-related. Try not to ask questions that can be easily googled as that might make you look lazy and careless.
Before you start your virtual round, make sure you prepare answers to these top 10 video interview questions. To take your preparation up by a notch, you should consider giving mock interviews from the safety of your home. You can take the help of your family members or opt for Mock AI to identify the areas where you lack and work on them.