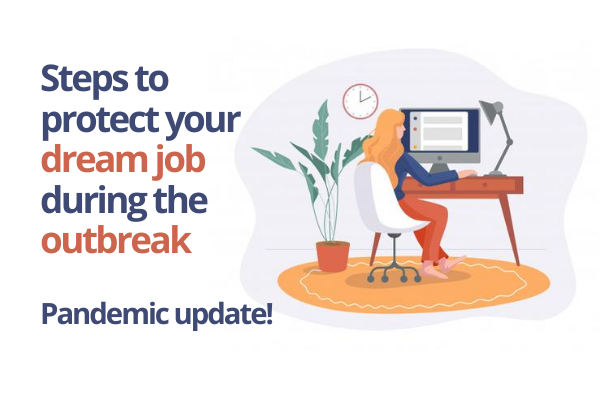 The coronavirus pandemic has expanded the boundaries of how far companies thought flexible workplace and recruitment policies could stretch. Starting your career during such uncertain times can make anyone worry about the security of their first job.
That is why to help you protect your first job during the COVID-19 pandemic, here are a few job protection tips that will help you put your best foot forward.
Take Initiatives
In order to show the manager that you are an irreplaceable part of the organisation. You should take initiatives by consistently taking up new projects and giving valuable ideas.
Having proof that you can complete a project from start to finish while working from home will show the manager that you are hard-working and serious about the job.
Moreover, successfully following through on tasks until the end will make you an indispensable human resource for the organisation. To secure your first job, you need to come to the forefront and highlight your work and skills.
Be Positive
During this trying time, it is very important for you to keep yourself positive and motivated. To further strengthen your position you need to keep your cool during the stressful circumstances.
Having a positive mindset will help you adequately meet deadlines, efficiently solve problems and work to avoid future conflicts.
Continue Learning
The coronavirus pandemic is constantly changing and in order to keep up with the changes in your first job, you need to continuously evolve your skillsets and abilities. Your aim should be to try new and innovative ways to do mundane tasks.
So, to stay relevant you need to keep learning and developing your skills. One of the best ways to do that is by completing relevant certifications courses while working from home.
Regularly updating your resume with relevant online certification courses can strengthen your candidature and might make you eligible for a higher job profile within the organisation.
Ask Relevant Questions
Asking questions can help you better understand the responsibilities associated with your job role. In fact, as a new employee, you can ask as many questions as you can.
However, make sure you are not asking questions just for the sake of it. Asking irrelevant questions will show the manager that you are not interested in the job role.
To complete a task adequately, it is important for you to gain clarity and for that don't be afraid to ask questions. Although you are not expected to be a pro at your first job but show your manager that you are serious about the job by taking initiative and doing some research at your end.
Avoid Making Mistakes
Being a fresher, it is natural to make mistakes at your first job. Learning for your mistakes is a lifelong process and this is what the learning curve is all about.
Although, you are going to make a few blunders, however, learning from them will help you become a great leader. Moreover, don't hold on to your mistakes, learn from them and move on. Avoiding tasks or walking on eggshells is not going to help you in your future endeavours.
Now, these are the top job protection during COVID-19 tips for you to secure your first job. From the beginning give your best and always try to put your work in the limelight. Moreover, always be passionate, inquisitive and hungry for success, even during the global pandemic.