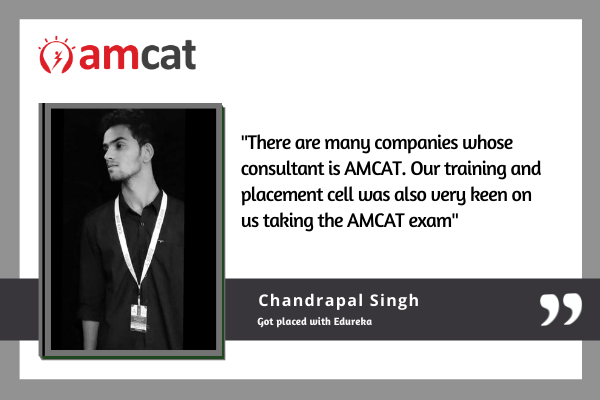 COVID-19 has changed a lot of things across the globe and one of them is the hiring process. While a lot of people have lost their job since the COVID-19 pandemic hit the world, there are many who have found new opportunities during these trying times too. One of these candidates, who made his mark during the COVID-19 pandemic is Chandrapal Singh.
Chandrapal, a Computer Science graduate recently got a job with Edureka. Let's see what he has to say about this experience.
Why did you opt for the AMCAT exam?
"To get placed in a company There are many companies whose consultant is AMCAT. Our training and placement cell was also very keen on us taking the AMCAT exam."
Chanrapal's faith in the AMCAT exam was soon rewarded as he started getting multiple interview offers. Not just him, a lot of his friends also got numerous interview calls through the AMCAT exam.
Did you face any difficulties while searching for jobs through AMCAT?
"My AMCAT score was good but my percentage in academics was a little low so I didn't get a lot of offers in the beginning."
However, things soon started catching up for Chandrapal as he himself remarks.
"In the beginning, I got a few offers but missed out on the emails. Later I got offers from many companies, including Edureka."
"AMCAT is a good platform to help you find jobs. You can directly apply to the jobs through the AMCAT dashboard. It also sends regular email updates regarding the latest job openings."
What about the AMCAT feedback report? Did it help?
"Yes, it helped me a lot", says Chandrapal.
"I was a little poor in Aptitude and I got feedback regarding the same. I was able to improve in it after that. It also showed my strong ideas and the areas where I had to work on. All these things were very clear and perfect."
Would you recommend the AMCAT exam to others?
"Yes, I will recommend the AMCAT exam to others as well. I am from the C.S background and many IT companies regularly hire through AMCAT. Even I got shortlisted for a lot of these companies. So I will definitely recommend AMCAT to my fellow students."
Thank you, Chandrapal for such kind words.

Just like Chandrapal, a lot of 2020 batch candidates have recently got a job through the AMCAT exam. If you too want a successful career, then choose AMCAT right now.
All the best!