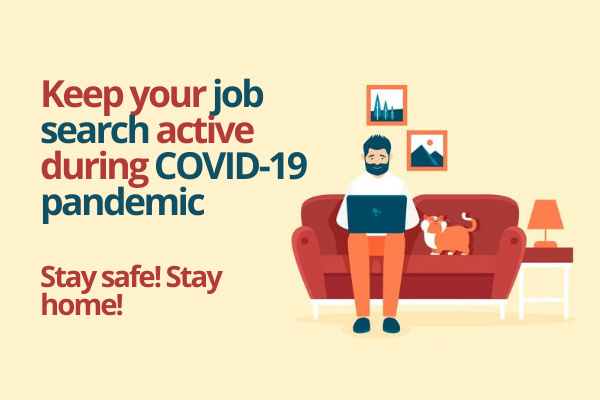 Thanks to the global pandemic, the road towards your dream job is filled with potholes and bumpers. And, in order to smooth sail your job search, you need to work harder than before while staying home.
That is why to help you during this trying time, we present to you some top job search tips to increase your chances of getting your dream job without stressing too much.
Achievable Goals
The first job search strategy to help you get closer to your dream is to choose the kind of job role and industry that you want to work in. Having clarity about your goals will help you focus your job search which will increase the quality of your job applications.
In addition to that, make sure your dream job is an attainable goal, having unrealistic aspirations can have a negative impact on your job search.
To achieve your goals, you should start working on your skills and candidature. One of the best ways to strengthen your candidature is by taking up online certification courses. Moreover, having relevant certifications on your profiles will show the recruiter that you are both job-ready and skilled.
Resume Writing Tips
Next step in your search for your dream job is resume writing. In order to apply to relevant job openings, you need to have an impeccable job resume by your side.
Moreover, recruiters spend less than 6 seconds on a job resume, so make sure your resume is error-free, skimmable and compelling enough to make the recruiter read it.
In addition to that, the format of your resume should be professional with the right font. You can also take the help of online resume writing service to make the perfect job resume within minutes.
Job Openings
Once you have made a job resume, you should start applying to openings on various job portals. However, make sure you tweak your resume as per the job description before sending off your application. Don't make the mistake of sending the same job resume to different job posts.
If you have given the AMCAT exam, then based on your score you can apply to exclusive, tailormade job opportunities on the job portal. There are plenty of IT and non-IT job opportunities available on the job portal for you to apply.
Prepare For Job Interview
Start preparing for your virtual job interview as soon as you start applying to job openings. Give mock interviews and identify the area where you lack. You can take the help of Mock-AI to get a detailed feedback report on your interviewing skills.
Moreover, prepare answers to common interview questions and thoughtful questions to ask the recruiter. Other than that, your interview attire should be clean, ironed and professional.
In addition to that, you should have a confident body language, clear and fluent voice and positive vibes. After the interview, make sure you follow up with the recruiter and the interview to show them that you are serious about the position.
Stay Motivated
Keep your spirit high and stay positive to overcome online job search-related anxiety and don't let anything come between you and your job search. Moreover, there might be times when you won't hear back from the recruiter or get a rejection mail.
However, rather than blaming yourself for the situation, you should learn from your mistakes and continue working hard towards your dream job.
Now, these are the top job search during COVID-19 tips to help you successfully apply to your dream job during the coronavirus pandemic. Keep these things in mind when starting your journey towards success and continue learning along the way.
So, don't wait for the pandemic to end, keep up your job search