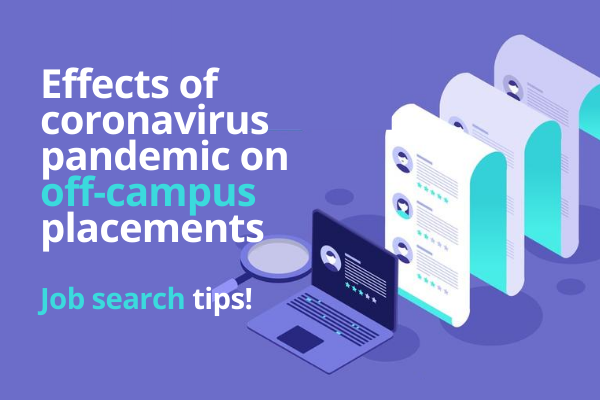 The coronavirus pandemic has affected all the major sectors, however, multiple business verticals across logistics, supply chain, BFSI, IT and ITes are recruiting deserving candidates. In fact, companies like Compass, EY, Zoho, ESI Group and KNOREX are taking the help of AI-powered recruitment tool like AMCAT to hire 2020 graduates.
In addition to that, companies are utilising HR Tech solutions to conduct virtual interviews and onboarding processes. So, it is safe to say that with the right strategies and hard work, you can successfully kickstart your career amid the global pandemic.
With this curated list of tips, you will be able to put your best foot forward during the off-campus placement.
Job Profiles
The first and foremost thing that you need to do in order to apply for off-campus placements is shortlisting job profiles and companies you want to work in. To do that you need to conduct research and study the job market.
Having a clear view of your goals and aspirations will help you focus all your positive energy towards creating high-quality job applications. Rather than focusing on quantity, you should focus on quality. Doing this will strengthen your candidature and increase your chances of getting closer to start your career in your dream company.
LinkedIn
Networking plays an essential role in helping you get job opportunities in your dream company. Moreover, LinkedIn gives you the platform to connect with recruiters and directly ask them about the hiring process in their company.
In addition to that, you can connect with your batchmates, colleagues, alumni and professors, and ask them to endorse your skills on LinkedIn. This will give the recruiter an insight into your skills and what others have to say about you and your personality.
Online Courses
To show the recruiter how serious you are about your job search, you should take up relevant online certification courses. Moreover, doing certifications will hone your skills and update your knowledge which will come handy during the job interview.
In addition to that, relevant certifications will give your skillsets both validation and recognition. This will also give you a chance to stand out from the rest of the applicants.
Job Resume
The last step you need to take care of before you apply for off-campus placements is by creating a perfectly customised resume. Having an impeccable resume by your side can increase your chances of getting the interview call.
Keeping that in mind, make sure your resume is nothing less than perfect. To do that you can take the help of an online resume writing service. Make an error-free and eye-catching resume within minutes.
These are the tips that you need to keep in mind on how to apply for off-campus placements. So, what are you waiting for? start gearing up for the next hiring round by giving mock interviews at home.
Don't stop practising and work hard until you get the job offer. Moreover, throughout your off-campus placements, keep a positive mindset, learn from your mistakes and stay motivated to achieve your goals.
Best of luck!