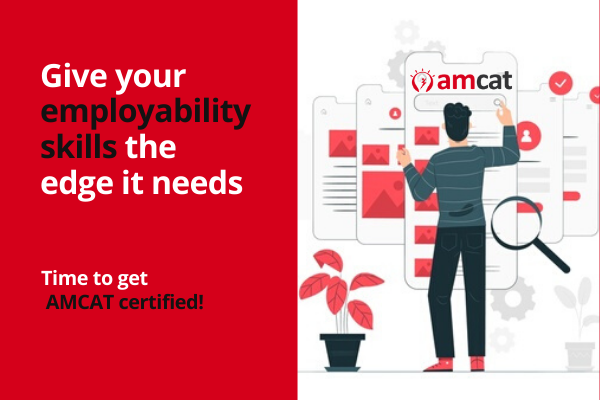 The competition is going to get tougher after the COVID-19 pandemic, and you need something to act as a differentiator against the rising competition. And, that is where certification courses come to your rescue. Relevant certifications can act as a badge of honour for you in your job search. So, having certifications under your belt will surely give you the edge you need to stand out from the crowd. 
To further improve your chances of getting the job of your dreams, try to get certified from a recognized body. One of the biggest certifiers on LinkedIn across the globe is AMCAT, which is giving its certification for free if you book the AMCAT exam.
So, if you are thinking of getting your skills verified during this lockdown, then choose AMCAT and become part of the AMCAT community.
How Does AMCAT Certification Work?
AMCAT Certification will act as a silver lining on your candidature and will help you stand out from the rest. Moreover, AMCAT Certifications are skills specific and are very much relevant to your target job profile. So, you only need AMCAT certification to take your job search to another level. 
Different from conventional certification courses, you won't have to attend online lectures or complete assignments to get the certification. To become AMCAT certified, all you need to do is pass the AMCAT certification exam to get your skills verified. There are 20 certification courses for you to choose from and get your skills testified. Some of the popular certification courses are PHP Development,  Java Full Stack Developer, and SEO (Search Engine Optimization).
Benefits Of AM Certifications
Competitive Edge
It is a fact that coronavirus pandemic has made the competition fiercer than ever before. Every day, thousands of students apply to a single job opening, which forces the recruiter to make some tough decisions.
The majority number of students are from the same course with a good academic track record, making it difficult for the recruiter to choose the perfect candidate for the job role. That is where skill certification courses highlight your candidature in front of the recruiter. Moreover, if you are industry-certified in a field of work, then you will be the first choice of the hiring manager.
Keep you updated with the changes
As you already know that the corporate world is always evolving, and to keep up with these changes, you need to keep your skills updated. The AMCAT certification provides recognition for your specialized skills, which is beneficial for you to land your dream job.
Moreover, by acquiring new skills and continuously honing the existing ones with AMCAT certification course you will build professional credibility for yourself.
Chance of getting a high pay
The ultimate aim of your hard work is landing a well-paying job. With AMCAT certification, you can gain extra knowledge, recognition and skills to improve your efficiency.
Moreover, recruiters do understand that it takes time and effort to continuously evolve your skills. They might willingly hire you at a salary higher than the average salary range.
Now, that you know the benefits of AM certification, it is time to use this lockdown as an opportunity to build up your profile. Having skills from accredited sources can strengthen your candidature and increase your chances of getting hired in your dream company.