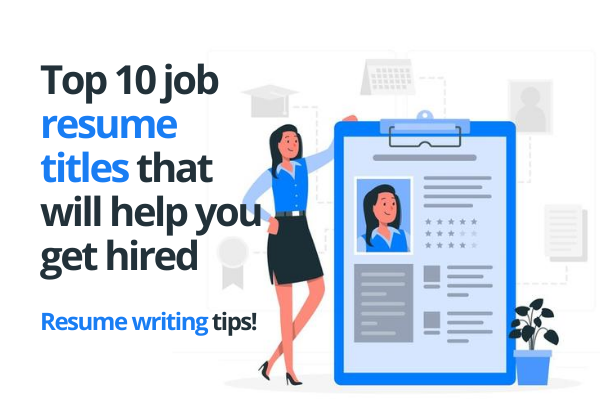 The purpose of a resume headline is to highlight your accomplishments and skills in your job resume. The focus of your job resume headline is to make a positive first impression, catch the recruiter's attention and make them read your job resume.
Hence, the right resume title should be a snappy short sentence that summarizes your educational qualification, work experience/internships, extra-curricular activities and skill set.
So, to help you create the best introductory line(s) for your resume, here are the top 10 resume headlines examples for freshers targeting different job profiles.
Resume Headline : Content Writer
English Literature graduate with internship experience of creating high-quality and  SEO-friendly content.
Resume Title: SEO Expert
Working knowledge and certifications of Keyword Planner and Google Analytics. AMCAT certified SEO expert. Seeking entry-level role related to SEO
Resume Heading: Data Analysts
Mathematics graduate with strong quantitative skills to analyze patterns and trends in large data sets.
Resume Headline: Java Developer
Goal oriented, determined and focused with excellent communication skills. High technical proficiency in Hibernate, JavaScripts, HTML and MySQL
Resume Heading: Business Analysts
Business graduate with an analytical frame of mind. Knowledge of Python, Tableau, R and SQL
Resume Titles: Business Developer
Have internship experience of 6 months as sales specialists. Excellent skills at identifying potential clients and generating high-quality leads  
Resume Heading: HR Executive
Solid communication and interpersonal skills with a bachelors in Human Resource. Basic working knowledge of HR software like Spine HR solutions
Resume Headline: Frontend Developer
Hardworking, determined and focused with a keen eye for details. Highly skilled in CSS3, HTML5, JavaScript and AngularJS
Resume Title: Digital Marketing Executive
Commerce graduate with first division. Hand-on experience in social media and email marketing during college fests. Seeking freshers marketing positions
Resume Heading: Customer Service Executive
High adaptive, flexible and comfortable with rotational shifts. Ability to easily resolve conflicts and generate useful sales leads
These are some of the top 10 resume headlines for fresher that you should incorporate in your resume. Use these titles and customise them as per your job requirement. And if you are having a hard time creating the perfect job resume, then you can take the help of Resume Buddy and make an impeccable resume within 5 minutes. It has a vast variety of resume templates for you to choose from.
So, don't waste any more time and start working on your job resume.