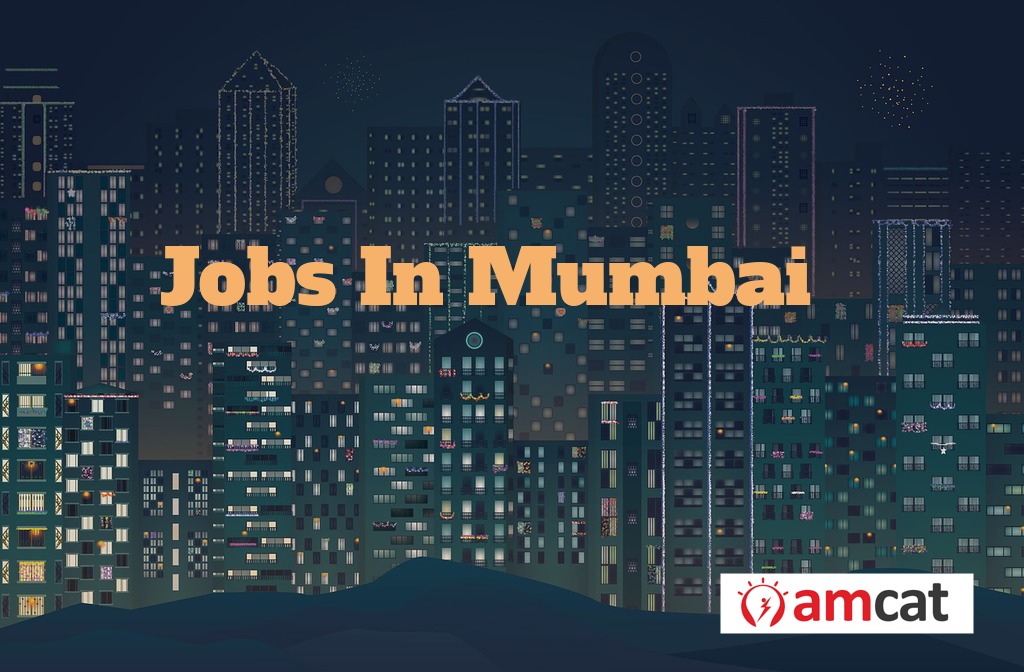 Mumbai is one of the most popular cities in India for non-tech jobs and lots of college graduates dream of fresher jobs in Mumbai. The city, also known as the financial capital of India, is a contrasting place, there are plentiful jobs, but there is also a very high competition to get a job. To get some of the highest paying jobs in 2019 in Mumbai you need to be prepared well. And to make it easier for you we have made a short guide on how to prepare for them –
Special Offer: Get AMCAT at just Rs.949/-. Use Code BLOG2019 at payment page. Hurry! code valid till 31st March 2019 only. Register Now.
Understand the industry and jobs on offer 
Fresher jobs in Mumbai come from various sectors and industries. Unlike cities like Bengaluru, Hyderabad or Chennai where IT jobs are the main focus, Mumbai is a mixed bag. The city has many industries, and most of the top companies in India have their headquarters based here, especially the old ones. Here are some of the types of companies you will find in the city –
Financial and Banking

Movie, Television and Creative Media

Advertising and Communications

Start-ups

Tourism

FMCG and Consumer Goods

Health Care

Textiles and Clothing

Import/Export
These are the major sectors, and you will easily find fresher jobs in Mumbai in these sectors. However, you also need to understand what kind of roles you might get in the companies.
While many companies have their HQs here, a lot of the operations are conducted India-wide; hence you may not find the job profile you need in Mumbai. This is the hub of non-tech jobs, but you need to be clear and research on the job profiles here.
Consider the cost of moving and salary expectations
If you are a native of Mumbai then finding fresher jobs in Mumbai is not a challenge. However, if, like lakhs of other people in India, you are dreaming of finding jobs in 2019 in Mumbai, then you need to analyze a lot of things.
Cost of living – Rs. 10,000 in Mumbai is not the same as Rs. 10,000 in Jaipur or Indore! The city has the highest cost of living even compared to other major Indian cities like Delhi and Bangalore. The cost of rents is very high, and most freshers tend to share apartments with other youngsters. This kind of a lifestyle might not appeal to everyone, and might not be sustainable. You need to be mentally prepared for this else it will start affecting your job and career.
Salary – Most fresher jobs in Mumbai pay anywhere between Rs. 15,000 – Rs. 25,000 depending on the industry. If you compare, a sales position in Kolkata will pay lower than a sales position in Mumbai; this is because the companies account for higher cost of living, conveyance charges, etc. Don't aim for fresher jobs in Mumbai just because they pay 10-25% higher than other jobs in your city. Your expenses are going to be higher too!
Take the AMCAT to distinguish yourself
Fresher jobs in Mumbai have a lot of competition; every job is applied by hundreds of graduates. Your best option to beat this competition is to take the AMCAT. The exam score will help you showcase your skill level to your prospective employer and distinguish yourself from other candidates in a quantitative fashion.
You can include the AMCAT score in your resume and highlight the skills you are good at. You can also use the score to apply to jobs on the AMCAT portal which has fresher jobs in Mumbai updated on a daily basis.
Prepare for interviews and be ready to grab the opportunity
Fresher jobs in Mumbai demand the same level of excellence as in any other city. Make sure you are well prepared for it, you would have already learned about the various industries and companies in Mumbai. Now start working on your resume, a good tool to use is Resume Buddy, which will help you prepare an impressive resume. You can use this to apply for jobs on the AMCAT portal as well.
Once the resume is done, you should be prepared to attend the interview. For this, you can use a tool like Mock AI, which will help you prepare with a mock interview. It will give you feedback on your body language, voice modulation and also help you with commonly asked questions.
Fresher jobs in Mumbai are within your reach if you have done all the homework required for it! Make sure that it is the right option for you and start cracking on the interview. We have great guides for preparing for fresher jobs here –
Ultimate Guide to Prepare for Aptitude Tests
Ultimate Guide to Prepare for Group Discussions
Ultimate Guide to Prepare for Personal Interviews
Special Offer: Get AMCAT at just Rs.949/-. Use Code BLOG2019 at payment page. Hurry! code valid till 31st March 2019 only. Register Now.