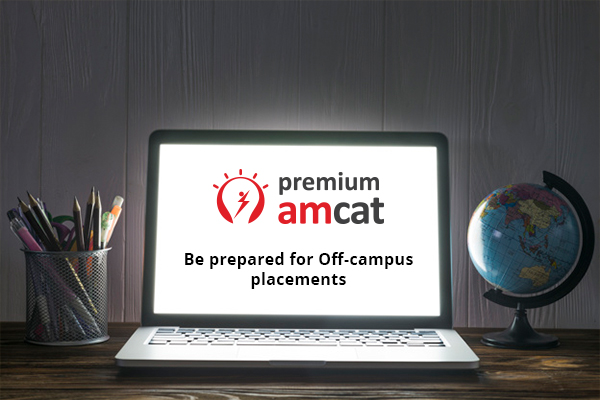 Off-campus placements have a bad reputation in India, and it is often assumed that one goes in for off-campus because they did not get placed in during campus placements! But, it's high time this perception is put to rest.
Off-campus placements are an excellent opportunity to find your dream job and will not restrict your opportunities.
Of course, off-campus placements are helpful for those who haven't been able to crack jobs during the placements.
Campus placements can be a tough roller coaster ride where you will go through several simultaneous interviews, and there is a possibility that due to tight schedules and
 luck you haven't been able to get through. So don't question your job preparation, there are thousands of jobs for freshers in India, and off-campus placements are the best way to get to them.
Five ways in which you can apply for off-campus placements –
Write AMCAT exam – AMCAT is an employability test that enables job seekers to evaluate their job skills, earn industry-recognized credentials and find fantastic career opportunities. It is without a doubt the best way to get off-campus placements because of the number of opportunities it opens up. After you write the AMCAT exam which tests your skills on technical and domain knowledge, you will get your AMCAT score. This score can be used for up to a year to
gain access to hundreds of suitable jobs for freshers in India. You can also put up this score on your LinkedIn profile and show off your skills to prospective recruiters.
Explore opportunities on job portals – Job portals or job websites are popular for searching for off-campus placements. There are lakhs of jobs listed, and companies like LinkedIn and Glassdoor are great to start off your job search. But searching for jobs for freshers in India on
 these portals can get tough because they are geared towards all kinds of job seekers. AMCAT has a job portal too that lists trending and latest fresher jobs and jobs for young, experienced employees. Ensure you complete your profile on these portals, and you will start getting calls from recruiters themselves!
Connect through your network – Networking is a crucial step towards landing off-campus placements. Your network would comprise of your classmates, seniors, professors, friends from other colleges, relatives and other friends. All these connections are, and you can always let them know you are looking for opportunities and you never know what will come up. Many companies
have roles that are first announced internally and then announced on public portals, and such opportunities are available only through your network. To maximizethese relationships, keep in touch with them.
Attend job fairs and job drives – There are a lot of industry-specific job fairs and job drives that offer off-campus placements. It is a great opportunity which you can explore, even if you don't like the jobs on offer, you get a chance to connect with the HRs and leave your resume with them for further opportunities. As a fresher, you need to grab every chance you can get to land your dream job.
Follow dream company websites – The biggest reason why you should consider off-campus placements early on is to get a job in the company of your choice. Your dream company may or may not come to your campus, but that does not mean you put a pause on your dream right? Ensure you follow the company website and their job portals to get updates about openings. Also, get in touch with the recruiters and employees who work in the company for any available opportunities.
AMCAT offers a complete solution to prepare for your off-campus interviews; AMCAT Premium. With the inclusion of PrepAMCAT (mock AMCAT), Resume Buddy (resume templates), and MockAI (mock interview sessions), AMCAT Premium is your one-stop-shop to not just prepare well and crack your amcat, and get calls from a number of elite companies, but also be ready with your resume and interview skills. Ensuring a job offer effort for you.
Being proactive is the only way you can win at off-campus placements. Level up your job preparation, and you will soon find yourself with an enviable job offer that even your friends with campus placements will be jealous of! For more such career advice follow our blog here.