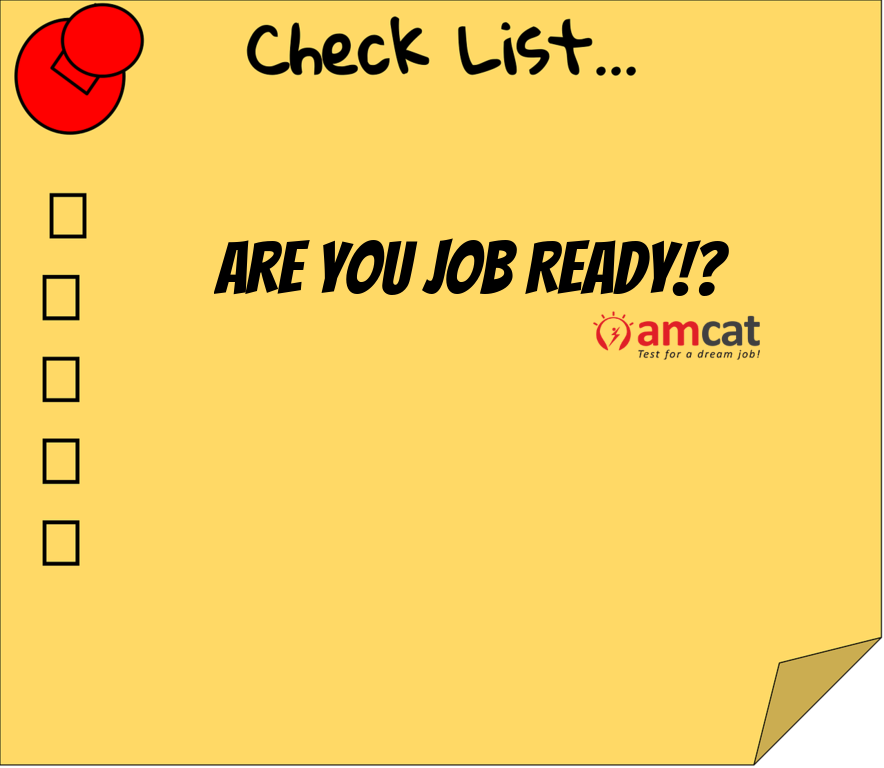 Job readiness is the biggest factor that determines career success. Most students, who graduate, fail to prepare themselves for their first job and, in doing so, are getting ready to fail. This is because lack of job preparation leads to impromptu decisions and failure in every step from aptitude tests to interviews.
In the end, students who are not job ready have to take up whatever comes their way which leads to a bad start to their careers.
Don't get off to a bad start; we have created a job preparation checklist for you that will help you improve your job readiness and set the path towards a successful first job –
Special Offer: Get AMCAT at just Rs.949/-. Use Code BLOG2019 at payment page. Hurry! code valid till 31st March 2019 only. Register Now.
Narrow down the industries and job roles you want to apply to
Many students apply to any company that comes for campus placements; they have one focus of getting a job. No matter how important it is to get a job, an informed decision about which industry and job role you want to have a career in is crucial. This will determine your whole life.
For instance, if you are a mechanical engineer, don't apply to IT companies just because it is easy, make sure that's the right decision for you. Talk to family, friends, seniors, professors, and professionals to understand and do the right thing.
Increase your options, sign up for the AMCAT
Your campus may have placements, but an important element of job readiness is to make sure you have enough options on hand. AMCAT will give you the option of showcasing your employability to hundreds of employers and help you also get a job through their exclusive job board.
You, also, simultaneously need to start the job preparation for off-campus placements. Don't put all your eggs in one basket, that's crucial on your journey to job readiness.
Start preparing for aptitude tests and group discussions.
Whether you are taking the campus or off-campus route, aptitude tests like AMCAT are conducted by all companies as the first step of a job interview process.
In fact, many major companies use AMCAT to shortlist candidates.
You need to start preparing at least six months in advance for these tests, as you will have many things taking your time towards the end of the course.
To make things easier, you can sign up for Premium AMCAT package that includes PrepAMCAT (Mock Tests), Resume Buddy (Helps you create resume), and Mock AI (Interview Readiness tool). It will help you through all your stages of finding your first job.
Get your resume in shape for first job applications 
A great resume highlights your job readiness to your employer. It is the first introduction the recruiter has of you and that they will use to shortlist you for the next round.
It is important that your resume focuses on your academic achievements, work experience, qualities, skills, certifications, and also is impressive and has great formatting. If you are still searching for a good resume template, then you can choose to use the Resume Buddy which has more than 20 resume templates and over 200 phrases that will help you make a great resume.  The Premium AMCAT package includes a subscription to the Resume Buddy tool.
Prepare yourself for the job interview 
The last but most important item on the job readiness checklist is the preparation for the personal interview. It is the last hurdle you need to cross towards your first job and a successful career.
You should prepare for common interview questions, but the best way to test if you are ready is to use a tool like Mock AI that will evaluate your interview skills. It will record your video, assess your body language and offer detailed feedback and offer improvements in voice modulation, facial expressions, etc. It is an integral part of job readiness to make yourself presentable and showcase your best side.
Job readiness, as you can see, is about making sure you are armed with all the right resources and information to face the job interview and the job itself. You need to be sure of each and every step. The Premium AMCAT package will be a great support to increase your job readiness and help you succeed in getting your dream job.
Special Offer: Get AMCAT at just Rs.949/-. Use Code BLOG2019 at payment page. Hurry! code valid till 31st March 2019 only. Register Now.