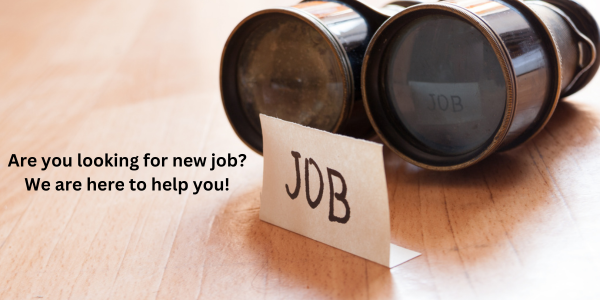 Looking for a new job can be an overwhelming experience, especially with so many job profiles available in today's workforce. Whether you're a recent graduate, a career changer, or a seasoned professional, navigating the job market can be challenging. In this blog, we'll tell you all about some exciting new job profiles. So, if you're ready to take the next step in your career, keep reading!
Clarity Travel Technology Solutions
ClarityTTS is The Travel SaaS provider offering sophisticated Travel Technology Solutions that include Clarity MATM, Clarity NDC, Clarity SWAP, Clarity ATM, Clarity IBE, Clarity API, Clarity RMS and Clarity Rewards for Closed User Groups across the globe. ClarityTTS is the pioneer in creating innovative tech solutions that lead to the advancement of capturing business excellence for airlines, GSAs, consolidators, OTAs, TMCs, DMCs, and travel agencies. We were one of the first few companies to achieve the IATA's Airline Retailing Maturity (ARM) index as a System Provider in 2021. ClarityTTS delivers powerful travel booking capabilities with multiple products aiming to transform the travel business with automation's aid. ClarityTTS boosts customer satisfaction by implementing effective automation in travel business operations. Clarity Travel Technology Solutions is the preferred technology and distribution partner for the world's major airlines, hotel chains, and other travel services. ClarityTTS has a global presence in five countries, with headquarters in Toronto, Canada, and corporate offices in the United States, United Kingdom, India, and Sri Lanka.
Job Location: Chennai
Salary: INR 3.6 – 6 LPA
Job Profile: Node JS Developer
Required Experience 0-2 Years
Target Batch: 2022-2023
Educational Competency: B.tech(CS/IT), M.tech
HelpNow
With a dream of saving more than 70,000 lives a day, HelpNow was started by 3 IITians, driven by first-hand experiences of a broken ambulance system in India. Over 15 months of R&D and with inputs from domain experts, HelpNow has built the largest network of private ambulances in Mumbai, leveraged ridesharing cabs into "MedCabs" and made technological optimizations to truly create the safest ambulance service in India. Currently, we are also operational in Bangalore and Delhi. Launched on Maharashtra Day, 1st May 2019, we invite you to join our mission, to give quality help and save 70,000+ lives daily.
Job Location: New Delhi
Salary: 3 – 5 LPA
Job Profile: Mern Stack Developer
Required Experience: 0-2 Years
Target Batch: 2021-2023
Educational Competency: B.tech(CS/IT), M.tech
Deinde Engineering Services Pvt Ltd
DEINDE Engineering Services Pvt. Ltd is a Product Design and Engineering firm, established in 2004. We have domain expertise in Computer Aided Design (CAD) software for Mechanical, Civil & Architecture. We do Product Design, Building Information Modeling (BIM), Computational Fluid Dynamics (CFD) and Finite Element Analysis (FEA), Mechanical Electrical Plumbing (MEP) Design, Heating Ventilation Air Conditioning (HVAC) Design, Architecture Engineering Construction (AEC) Design, Condition Monitoring, Vibration Analysis, Interior/Exterior 3D Design Rendering and Reverse Engineering as well.
Job Location: Mohali
Salary: 3 LPA
Job Profile: Design Engineer
Required Experience: 0-2 Years
Target Batch: 2021-2023
Educational Competency: B.Tech/B.E.
MyWays Pvt Ltd
MyWays is an Artificial Intelligence and Psychometrics empowered Personalized Career Growth Platform for students. We aim to help students in being employable in their desired field by creating personalized upskilling journeys for them, providing them internships, courses, and training, and tracking their growth in the journey.
Job Location: Mumbai and New Delhi
Salary: 4-7 LPA
Job Profile: Node.JS Developer
Required Experience: 0-2 Years
Target Batch: 2022-2023
Educational Competency: B.tech(CS/IT), M.tech
Intellipaat
Intellipaaat is the leading online education provider with more than 1.6 million learners. We have our presence in more than 155+ countries around the world. Intellipaat is a pioneer in providing industry-oriented certification programs in collaboration with top institutions of the world to meet the skill requirement of the IT sector. Intellipaat is also associated with top institutions like MIT USA, IIT Madras, IIT Guwahati, IIT Roorkee, IIT Jammu, etc to provide upskilling programs to corporates as well as individuals working in the IT sector.
Job Location: Bengaluru
Salary: 7 LPA
Job Profile: Business Development Associate
Required Experience: Freshers
Target Batch: 2023
Educational Competency: Graduation / Post Graduation (excluding Bachelor of Arts)
What are you still holding out for? For these amazing job chances, apply right away.
Visit the AMCAT's job portal or register for the exam as soon as possible to apply for more similar jobs.