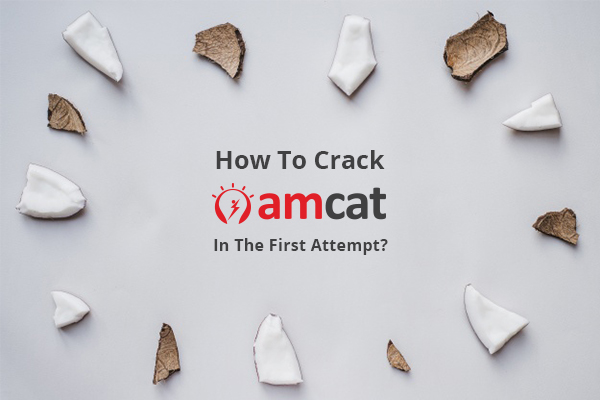 Cracking the AMCAT exam might seem like a tricky deal. There are hundreds and thousands of people who opt for the AMCAT test every year, and the thought of all that competition can get on anyone's nerves. However, if you practice well and follow these AMCAT preparation tips, then you will be able to not just crack the AMCAT exam but do so with flying colors.
Understand the module
A lot of what to expect from the test can be deciphered from the test modules. The AMCAT test module is very defined and descriptive.
There are three compulsory sections/modules, namely Logical Reasoning, English, and Quantitative Aptitude that you cannot skip at any cost. Of these, enough information is provided here.
You need to understand the modules and the syllabus before you begin working on your formula to crack the AMCAT exam.
Get clear on the basics
The AMCAT exam tests you on questions that prompt you to think beyond the mundane and rely on your grasp of the basic concepts to get through.
So, bring out your books from 2nd year onwards to revise everything and understand the mechanics of each section. You cannot hope to learn the formulas or concepts by heart to succeed, you need to understand the concepts by heart to do so.
Practice sample papers
To get the hang of any test, it is really important that you should solve as many sample papers as you can. Sample papers give you a clear idea of the test and tell you in which direction you need to work in order to succeed.
A great way to go about it would be to solve a sample paper every day or at least every other day. However, it won't be just enough to solve the papers. You will have to time yourself accordingly and see how many questions you can solve correctly in the assigned time and work from there.
Work on your speed
Whether you are looking to crack the AMCAT exam or sit for any other competitive exam, if you are able to solve questions quickly and correctly, then you will win.
Many students have a good grasp of the subject and are great problem solvers but they are just not fast enough. As such, they are not able to complete the paper in the given time. This puts them on the back foot.
Solving sample papers, timing your progress and trying to increase your speed with each question would be a great way to work on your speed. Similarly, you can also try and see which questions or which sections require more time so that you can divide your time accordingly.
Get ready with prepAMCAT
Another important tool that can really help you prepare well for the AMCAT exam is the prepAMCAT. Fashioned after the AMCAT exam, prepAMCAT is meant to test your readiness for the test.
Since most of the questions asked here are picked from previous AMCAT papers, you also get a clear and defined idea of what kind of questions you can expect in the final test. That added with the fact that you get a chance to analyze your performance thoroughly and see where you went wrong can really help you in the long run.
And, by long run we mean not just the AMCAT exam but any other competitive exam you might be preparing for at the moment.  PrepAMCAT allows you to check your speed, see where you stand and how well your AMCAT preparation is going.
Preparing for the AMCAT exam needs consistent effort and the zeal to succeed. When you are preparing for the AMCAT exam, you need to remember that it is not the end of the step but only the beginning.
If you succeed in the AMCAT exam, then the next step would be clearing the exams or interviews set by various companies. Even if you don't clear the AMCAT exam with good marks, the whole process will make you feel more confident about yourself and allow you to strive to excel.
Additional note:
Make a weekly timetable and follow it to cover all points of each module. Stick to this timetable and make changes according to how much effort you need to put in, in each module. Set weekly goals and try to achieve them.