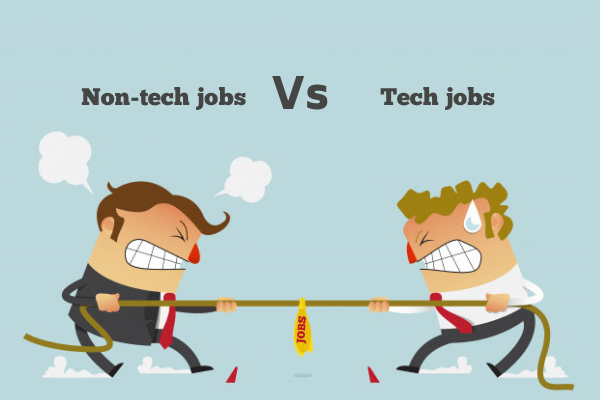 In the late 20th century, India saw a huge industrial boom in its jobs sector – it was a new phase of the IT industry. Since then, technical jobs acquired the centre stage and have held the imagination of the general public. However, while tech jobs have enjoyed their share of the limelight, now the focus is shifting on non-tech jobs too as people are realising its importance.
Non-tech jobs were earlier considered easy or a no-brainer. However, now that people know better and there is a lot of reputation attached to non-tech jobs too, it has become harder to choose between the two. But nevertheless, let's try and take a look at non-tech jobs Vs tech jobs and see which have a brighter future.
Pros
Both tech jobs and non-tech jobs are full of some wonderful pros that make them a great fit for the future. However, which pros appeal the best to you, is for you to see and decide.
Tech jobs
Has wide usage with new technologies being developed almost daily.
Quick growth options
Lots of jobs available in the market and the number is only increasing as more and more companies are opting for the latest technologies.
Almost every industry, whether the IT industry or non-IT industry has a demand for tech jobs.
Non-tech jobs
Jobs that run the company; hence, stability
In many cases, better pay with high chances of career growth.
Every company has a demand for non-tech jobs to get the wheels rolling.
Flexible work hours – better work-life balance
Not affected by automation so much as most of the work requires actual, human interaction.
Special Offer: Get AMCAT at just Rs.949/-. Use Code BLOG2019 at payment page. Hurry! code valid till 31st March 2019 only. Register Now.
Cons
Of course, each job and each industry has its own cons that you cannot ignore. But the important things is, how much these cons are going to matter for you as an individual in the long run.
Tech jobs
Too much competition, which is only looking to increase with time.
High lay off rate – so a not-so-secure future.
Low employability skills. The reason why companies now prefer candidates who have a skill certification like the AMCAT certification in their kitty.
No fixed working hours; it might extend beyond the normal 40 hours a week.
Automation taking over a lot of work.
Non-tech jobs
The pay isn't necessary good everywhere, especially in companies where the focus is on tech jobs.
Fewer resources available for the non-tech teams in comparison to what the non-tech teams receive.
Not required to push the envelope and learn a vast array of things.
Individual's growth is less important as compared to team growth and company's growth.
So, this was our take on non-tech jobs Vs tech jobs and we can say that despite their cons, they both look like pretty convincing streams to opt for. While both these jobs have excellent growth opportunities and are well in demand, the competition can be high too as well as the struggle to prove your worth.
Special Offer: Get AMCAT at just Rs.949/-. Use Code BLOG2019 at payment page. Hurry! code valid till 31st March 2019 only. Register Now.