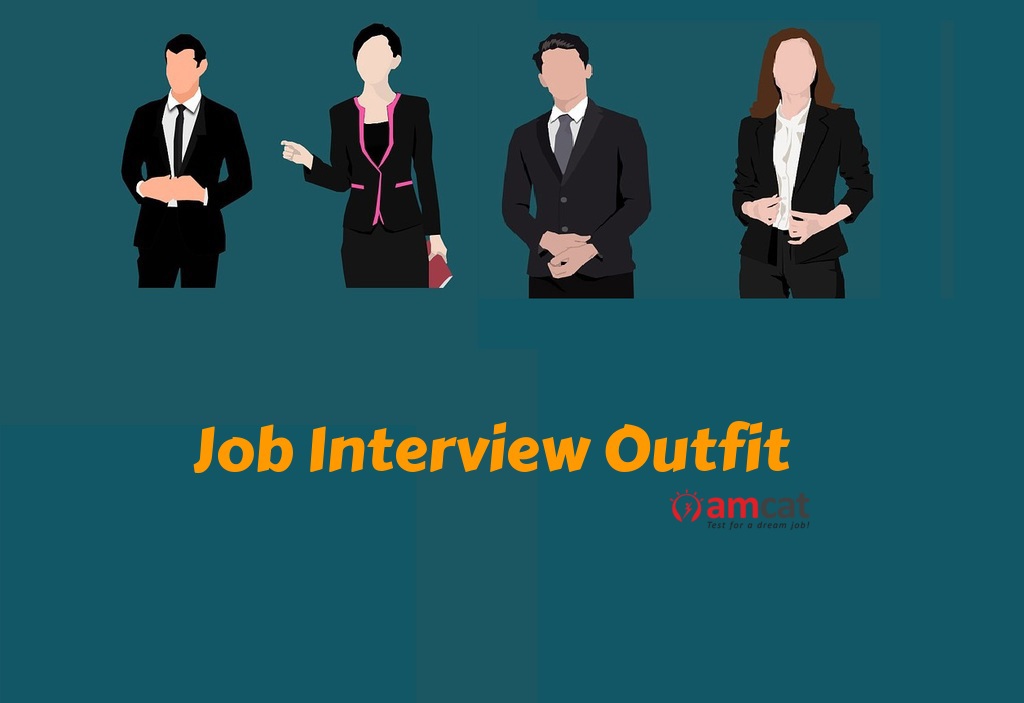 Do you have a fresher interview lined up, and are wondering what to wear? From full suit to business casuals, everyone will give you a different 'perfect outfit' opinion to wear as your interview dress.
So how do you decide?
What are the factors to be kept in mind while dressing up for a job interview? And, how to assemble the perfect outfit?
Here is a guide on all of that and more.
Special Offer: Get AMCAT at just Rs.949/-. Use Code BLOG2019 at payment page. Hurry! code valid till 31st March 2019 only. Register Now.
Finding an outfit is also an essential part of interview preparation, and you need to understand that there is no one fit for all. A perfect outfit is a combination of the four factors –
1. The kind of company you are interviewing for – 
MNCs, Startups, Private sector, Public sector, NGOs, Institutions,  etc. There are a lot of types of organizations and your outfit for each will depend on how the organization works.
MNCs and Large companies in the Private sector – A majority of fresher interview calls are undertaken in a formal atmosphere. Most companies in India require their employees to dress up formally. For a man, it means picking up a clean, ironed pair of formal pants and a collared shirt. The colors chosen should be muted, generally white, blue or grey. You can wear a tie, but it's not necessary.
If you have a job interview for a consulting role in a Big Four consulting firm, then you should dress up in formal suits, this also goes for a woman.
As a woman, you can dress up in a pant and a formal top, without too many frills, knots or anything that attracts too much attention. If you prefer Indian clothing, you can stick to cotton kurtas or saris. Again, the colors of the kurta and dupatta should not be distracting nor designer wear.
Startups and NGOs – There is a general assumption that these types of organizations are more relaxed and you can wear anything for a fresher interview in these places. But it is far from the truth! If possible check on the website of the company for any office photos. If they are wearing formals then go ahead and wear business formals as mentioned above. If not, you can stick to business casuals.
However, if you are applying for a sales or business development role, no matter what, always wear business formals to your job interview.
For business casuals, a man can wear pants like chinos or cotton pants, but jeans should be avoided. Wear collared t-shirts or casual shirts that are tucked in, do not enter an interview with untucked shirts or t-shirts. A woman can wear similar clothing as mentioned above, again do not wear jeans or t-shirts as they are too casual.
2. Where your interview is held –
This factor might seem odd because you must think every fresher interview is conducted in the office, but that's not true! Video interview, office interview, outdoor interview like in a cafe, or restaurant, all of them are valid venues for holding a job interview.
Video Interview – Stick to business formals, concentrating on a great shirt or a kurta for the women. Don't experiment too much and ideally wear plain colors as they won't distract on the video.
Informal venues like cafe or restaurant – You can wear business casuals as mentioned above.
3. Which day the interview is held –
Most fresher interviews are held on weekdays, but there is a possibility that it is conducted on a Weekend or a holiday. As such the expectations are different.
On weekdays – You can follow the guide as above for business formals.
On Weekends – You can wear business casuals, but if the fresher interview is conducted in the office premises for an MNC then stick to business formals no matter the day or time of job interview.
4. The climate of the place of the interview –
Today, almost every venue is air-conditioned and as such stable temperatures are normal. But, you will be exposed to hot and humid or extremely cold temperatures outside the venue, and you need to be prepared for the climate as well.
Extreme heat – If you are from Chennai or Delhi in summer, for instance, you should pick up cool fabrics like cotton and breathable material. Carry a handkerchief to wipe off sweat, and you can avoid the suit. You will look out of place if you wear a suit in such weather, even if for a fresher interview!
Cold weather – You will want to wear warm clothing, but put away all your funny or graphic hoodies or sweaters. Men can buy a plain sweater vest that can be worn indoors and a good jacket to keep yourself warm when you are traveling to and from the venue of a job interview. Women should also invest in a design-free sweater, no hearts or big flowers! The key to professional wear is sometimes to get as boring as you can!
Once you have picked out the outfit for your fresher interview, it's time to wear it and do a mock interview. You can use the Mock AI tool, which is an excellent tool for conducting mock interviews and receiving feedback on your body language, and communication. For more such tips and advice on a fresher interview, follow our blog.
Special Offer: Get AMCAT at just Rs.949/-. Use Code BLOG2019 at payment page. Hurry! code valid till 31st March 2019 only. Register Now.