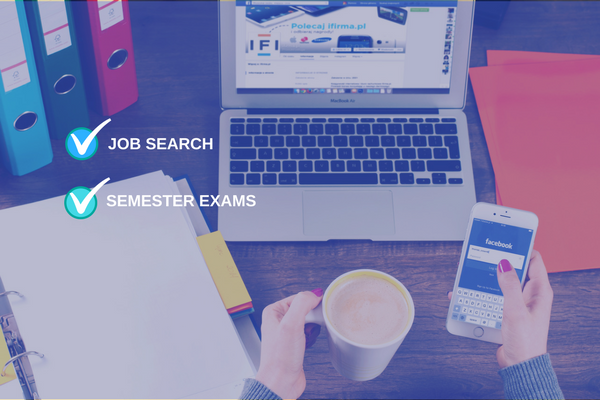 Nearing the end of your seventh semester and worried about the prospects for a shining job straight after college? If yes, we don't blame you – college placements are a tricky zone and most students feel that they can get a better opportunity if they crane just a little bit more… However, to balance this with your upcoming 7th Semester Exams is a bit of a tightrope!
In this blog, we examine how you can juggle both with ease, by a little bit of nifty planning on both the ends. This way you can still clear your 7th-semester exams while continuing with your job search.
Balancing your job search with your exams
Create a focused plan of action
Follow your schedule
Revise complete course materials
Prepare for aptitude assessments in line with your course syllabus
Plan your job search – before, during and after your exams
1. Focused Plan of Action:
A smooth run through these two exercises, together, begins with a right planning strategy – and in this case, two of them!
Begin with a planned approach to your job search, specifically for  Campus Placements (something we explored earlier) and then build your exam preparation on top. Have a six-month plan to your job search, aligned to the February rounds of Campus Placement? Good.
Now, break down your exam syllabus into capsules that can be revised in a week's time. Arrange these by priority and then begin to assign days to them.
2. Follow Your Schedule:
Exams and job search individually, are tough cookies to crack. Together, they will become harder – in fact, the second, especially through the route of campus placements, is said to be one of the most stressful periods in a student's life.
Faith is what can steer you through. Faith in yourself, your schedule and your preparation – and you can ensure all three only if you religiously follow through on them. Ensure that these
3. Revise more course materials:
Don't restrict your exam preparation to just the syllabus for this semester. Instead, work on two more topics from your whole syllabus, as this will keep you sorted for the final semester, as well as your job search.
Confused? Most campus placements and hiring exercises these days include a written screening round, generally a skill assessment test. And this test, apart from checking your communication skills, quantitative ability and logical reasoning, also have a subject component, based on your area of specialisation. For example: The AMCAT Test offers B.Tech students with eight module options, dependent on your field of study, alongside a basic aptitude evaluation.
4. 
Prepare for aptitude assessments in line with your course syllabus
Stemming from the previous point, a prior exam preparation of your whole syllabus prepares you for skill assessment tests, like the AMCAT Test. It also holds true in vice versa.
Once you believe you have mastered the basic concepts for your 7th-semester exams, you can choose to revise them by preparing for skill assessment tests and running through multiple-choice questions and general tests related to your field of study. This can also help you analyse whether you can answer trickier versions of the same questions and keep you on your toes for any googlies that the examiner can throw your way.
TIP: Plan a mock aptitude assessment round per week, so that you can keep practising alongside your exam preparation.
5. Plan your job search around your exams:
Your seventh-semester exams and job search can coexist peacefully if you schedule your activities with each other. Have a week's worth of exams coming your way? Postpone your skill assessments to after this trying week, say January.
Alternately, if you think that the skill assessments are a smaller fish to fry in terms of your syllabus – do it the other way. Schedule your aptitude tests to a fortnight before giving your exams and be ready for the results and prospective job interviews to start pouring in a week after your exams are done.
And the most important thing – keep calm. Believe in yourself and exercise positivism – that will ensure that you remain ready for any possible challenges that either may throw towards you.
We hope that this exercise helps you balance both your exams and your job search. You can also book your AMCAT Test today, for January and give yourself time to do both, one after the other.