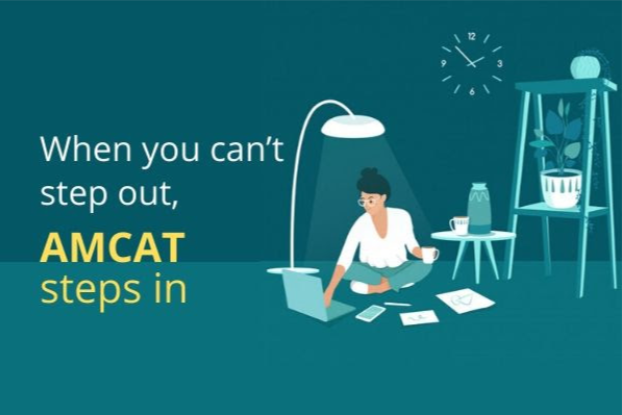 Your health and safety is of the utmost importance to us. And, as the COVID-19 situation keeps on evolving across multiple cities in India, we are taking all the precautionary measures to ensure that your search for opportunities keeps ongoing.
That is why we have come with a solution, you can give the AMCAT exam from the safety of your home without jeopardizing your health and career. That means, now your home is your test centre. You only need a laptop/computer (with a camera) and a working internet to turn your home into your test centre.
Here is how you can book your AMCAT from home and keep your journey on track.
How To Schedule Your AMCAT Exam?
To schedule your AMCAT exam, you need to follow the following steps
First, go to MyAMCAT home page and fill in the form with all the required details correctly.
In the wake of COVID-19, your test centre is your home. You only need to schedule the date and time of the exam.
Lastly, make the payment with a discount code (if you have any).
Once you have booked your AMCAT exam start preparing for the same and get a solid AMCAT score to get multiple job opportunities.
Preparation Tips For The AMCAT Exam
The best way to show the recruiter how skilled and job-ready you are is through your AMCAT score. A good AMCAT score will tell the recruiter that you are the ideal candidate for the job role.
Here are some of the strategies that will help you take your AMCAT preparation to another level.
AMCAT Exam Syllabus
The exam is divided into 2 modules – compulsory module and optional module(s). Try to get a good score in both the modules because you will get interview calls based on it.
Knowing the syllabus of the AMCAT exam will help you understand the standard of the exam and what you can expect in it. Therefore, it is important to know the syllabus of the AMCAT exam to get a good AMCAT score
Sample Papers
One of the best ways to practice is by solving sample papers. Doing this will help you get a better understanding of questions that will be asked.
PrepAMCAT
Once you are through with the sample papers, you should start attempting mock AMCAT exam. PrepAMCAT is the simulated version of the actual AMCAT exam. Solving these will help you get an insight into your strengths and weaknesses. You can use this feedback to work on your weaker section and turn them into your strengths. Moreover, it will help you increase your question-solving speed.
Now that you know how to prepare for the AMCAT exam, the next step is to learn how to give the AMCAT exam from home.
Give AMCAT Exam From Home
Below are the steps that you need to follow to give the exam at your home.
Log into your MyAMCAT account and go to your AMCAT dashboard.
Click on the 'start test' button on your dashboard to begin your exam. Make sure to note down your AMCAT ID for future reference.
You need to start your AMCAT exam on time because your exam link will expire if you miss the scheduled time slot.
Choose your optional modules and start your exam.
We will send you your AMCAT score report after 48 hours of giving the test. You will also receive the AMCAT feedback report which can help you take your interview preparation by a huge margin.
You can read about how AMCAT helped our AMCATeer achieve success here.
With your AMCAT score, you can apply to multiple job opening posted on the AMCAT job portal while staying at home. So, don't let COVD-19 come put a full stop on your job hunt.
Choose AMCAT! Choose Success!
Stay Safe!
We are here for you!